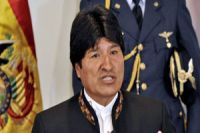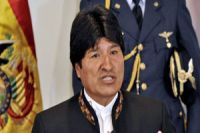 Bolivian President Evo Morales has stressed the need for further cooperation between his country and Iran, particularly in the joint struggle against global hegemony.
According to Press TV, in a meeting with Iranian Vice President for International Affairs Ali Saeedlou in Kito on the sidelines of the swearing-in ceremony of the Ecuadorian President Rafael Correa on Saturday, Morales expressed gratitude for Iran's assistance to the Bolivian government and nation, and called for the all-out promotion of ties between La Paz and Tehran in regional and international arenas.
The Bolivian leader stated "We should endeavor to develop and enhance these ties especially in the field of the joint struggle against global imperialism and hegemonic powers." He also called for Iran's help with the economic development and progress of his country.
Commenting on the Syrian crisis, Morales strongly opposed foreign intervention in Syria's domestic affairs and praised Iran's stance regarding the peaceful resolution of differences in Syria.
He also underlined the need for cooperation among independent states to neutralize plots hatched by colonial powers to aggravate the bloodshed in Syria.
Saeedlou, for his part, called for the promotion of relations between Iran and Bolivia in all fields, particularly in the area of bilateral trade.
He hoped that Morales would win the upcoming presidential elections in his country, which is scheduled to be held next year.
Saeedlou further noted that Iran's technical, economic, cultural and agricultural assistance to Bolivia would continue in the future.