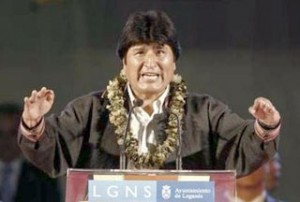 Bolivian President Evo Morales has strongly criticized his American counterpart for failing to change Washington's policy towards Bolivia.
"When I was informed that Obama had won the elections I said: a black man isn't going to exclude an Indian, but it turned out to be the opposite," Morales said on Thursday.
"That is why I say that the only thing that has changed in the United States is the color of the president. I regret that a lot," he added.
His comments came after US President Barack Obama excluded Bolivia from special trade benefits for a second consecutive year.
The US leader signed into law an agreement that grants most goods from 131 countries duty-free status for entry into the US.
Morales also noted that his country does not need Washington and prefers cooperating with allies across the world such as Iran and South Africa.