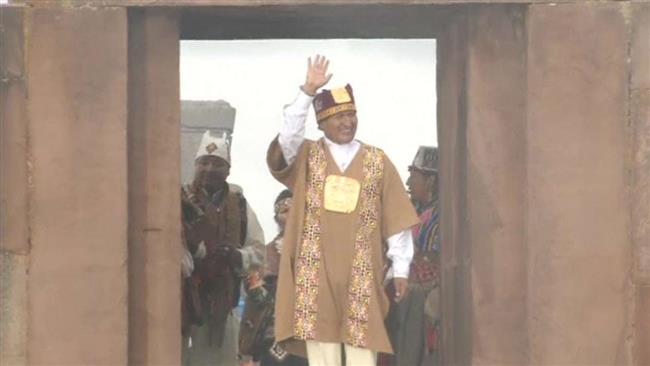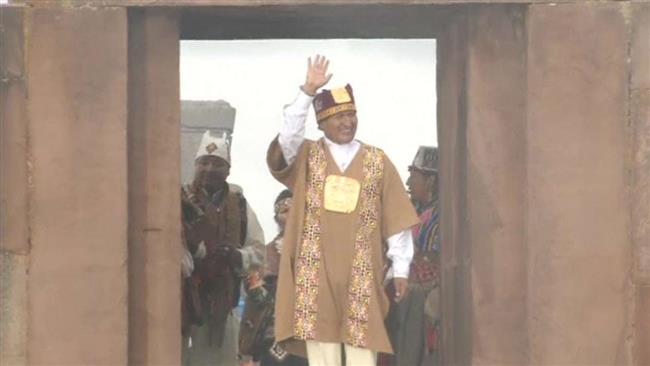 Bolivia's President Evo Morales has been sworn in for a third term in office as jubilant crowds of supporters cheered outside the national assembly building.
The Latin American nation's first indigenous president took the oath of office during a ceremony in the national assembly in La Paz on Thursday, with his left fist raised as a notion of what he referred to as "on behalf of the Bolivian people and equality for all human beings."
First elected into office in 2006, the popular 55-year-old president and former coca grower was re-elected for a third term back in October 2014 with a staggering 61 percent of people's votes.
Additionally, his political party, the Movement Toward Socialism, won two-thirds of the legislative seats.
Over 40 leaders and senior officials from across the world, including Brazilian President Dilma Rousseff and Venezuela's President Nicolas Maduro, participated in Morales' inauguration ceremony.
The new term of President Morales will expire in 2020.
In another ceremony prior to the formal event at the country's legislature, Bolivia's indigenous people, politicians and members of social movements gathered on Wednesday at the pre-Incan ruins in Tiahuanaco, to mark the beginning the president's third presidential term.
Tiahuanaco was picked for the inaugural ceremony since it represents what is said to be the "roots" of Andean and Amazonian cultures.
Since his rise to power, the Morales administration has pushed through many important constitutional amendments, including expanded autonomy and political participation for the indigenous population.