Iran
Middle East
North America
Bolton, Netanyahu luring Trump into killing Iran deal: Zarif
Foreign Minister Mohammad Javad Zarif says the US national security advisor and Israel's prime minister are using the "delusion" of forcing Iran's uranium enrichment level to "zero" to encourage the US president to destroy a 2015 nuclear deal between Tehran and other countries.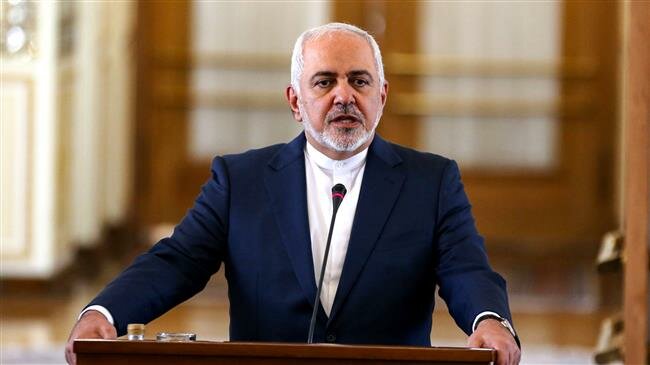 John Bolton and Benjamin Netanyahu acted on the same delusion in 2005 to devastate a nuclear agreement that had been reached between Iran and Britain, France, and Germany in Vienna a year earlier, Zarif tweeted on Tuesday.
"Bolton & Netanyahu killed Paris agreement between E3 & Iran in '05 by insisting on zero enrichment," he wrote.
Under the accord, the European parties had offered political, trade, and nuclear incentives in exchange for Tehran's voluntary and temporary suspension of its uranium enrichment program.
Zarif also noted how the duo's anti-Iran efforts had backfired despite initially undoing the agreement. "Result? Iran increased its enrichment 100-fold by 2012," the top diplomat noted.
"Now, they've lured [US President] Donald Trump into killing JCPOA with the same delusion," he stated, referring to a subsequent nuclear agreement.
The second deal was reached between the P5+1 group of states — the United States, the UK, France, Russia, and China plus Germany — and Iran in the Austrian capital in July 2015. It is officially known as the Joint Comprehensive Plan of Action (JCPOA).
However, the US left the JCPOA last year and reinstated the nuclear-related sanctions that the deal had lifted.
Speaking to Fox News in April, Zarif outlined the role being played by Bolton and Netanyahu to ramp up pressure on the Islamic Republic as part of, what the Iranian top diplomat called, the four-strong B-Team, also comprising Saudi Crown Prince Mohammed bin Salman and Abu Dhabi Crown Prince Mohammed bin Zayed Al Nahyan.
B-team targeting Iranians with economic terror: ZarifIran's foreign minister says the B-Team is targeting the Iranian nation with economic terrorism and even war.
He has, on several occasions, condemned the foursome for trying to subject the Iranian nation to "economic terrorism" by acting to mobilize instruments of illegal economic pressure against the Islamic Republic.
"B-Team hasn't learned. BUT THE WORLD SHOULD," Zarif concluded.
In May, Iran began initiating a set of measures to respond to the US's departure from the JCPOA and the European partners' refusal to guarantee Tehran's business interests under the deal.
The measures has already seen Tehran surpassing the 3.67-percent cap set by the JCPOA on the level of its uranium enrichment.