Middle East
Syria
Turkey
Bomb attack kills 17 in Syrian border village: Turkey
At least 17 people have lost their lives in a car bomb attack in a border village in Syria's northeastern province of Hasakah, Turkey's military says.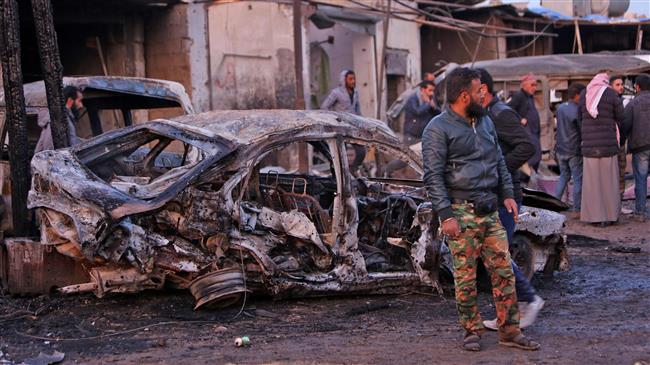 The deadly bomb explosion struck a local market in the Turkish-held village of Tel Halef, west of the city of Ras al-Ayn, on Tuesday, the Turkish Defense Ministry said in a statement, blaming the attack on suspected members of the People's Protection Units (YPG), a Kurdish militant group.
Turkish army forces on October 9 launched a cross-border offensive into northeastern Syria in a declared attempt to clear the YPG militants from a "safe zone" in border areas.
Ankara regards the US-backed YPG as a terrorist organization tied to the homegrown Kurdistan Workers' Party (PKK) militant group, which has been seeking an autonomous Kurdish region in the Anatolian country since 1984.
"The child murderers this time detonated a car bomb in the village of Tel Halef west of Ras al-Ayn, killing 17 people and wounding more than 20," the Turkish ministry said on Twitter, accusing the YPG and PKK of "[s]howing a much worse attitude than Daesh."
It said the Kurdish group "continue[s] its car bombings aimed at civilians."
Car bomb blast claims nearly dozen lives in Syrian border townA car bomb explosion has killed nearly a dozen in a Turkish-held border town in Syria's northern province of Raqqah.
The flashpoint city of Ras al-Ayn, which is situated to the east of the Euphrates, was captured almost shortly after Turkey launched its offensive. However, it was captured again by another group of militants, which have received US backing, on October 16.
The city has been seeing heavy fighting between the two sides.
On November 21, Turkey's Defense Minister Hulusi Akar announced that Turkish troops had managed to establish a "safe zone" 145 kilometers in length and 30 kilometers in depth in northern Syria.
Under an agreement reached between Turkey and Russia, Turkish and Russian security forces would carry out joint patrols in the zone to prevent the militants from reemerging there.
Ankara claims that Kurdish militants have failed to withdraw from some areas and continue to attack both soldiers and civilians.
The Syrian government has strongly condemned the Turkish offensive as an act of aggression.
The Turkish military has previously launched two cross-border incursions into northern Syria — in 2016 and in 2018.