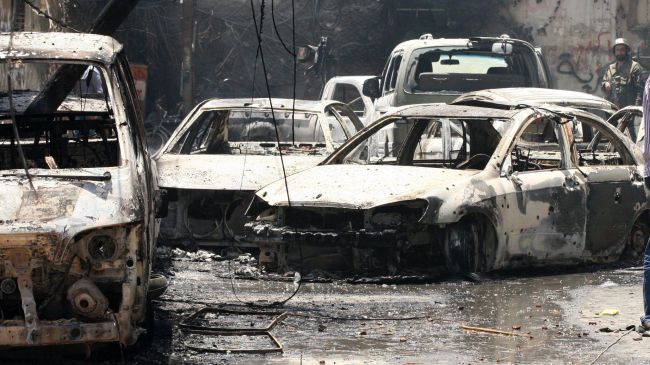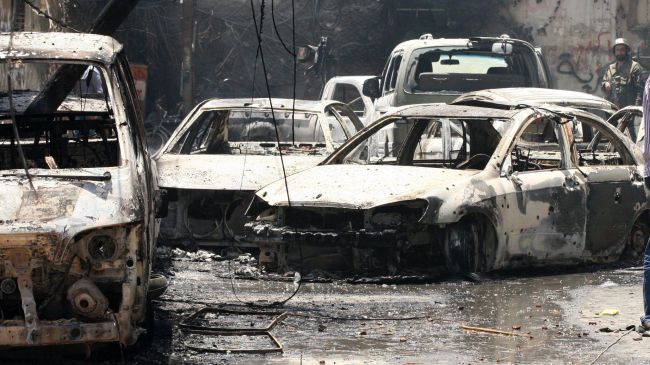 A bomb attack has been carried out in a central neighborhood of the Syrian capital, Damascus, near the hotel where the UN observers are staying.
The Syrian state television said three people were also injured in the bomb attack on Wednesday.
The bomb had been planted on a fuel truck in the area, the state TV said.
On August 11, a similar attack, followed by random shootings, also struck the Marja district of Damascus.
Meanwhile, fighting continues between the Syrian army and the terrorists in the northwestern city of Aleppo.
The government troops have inflicted heavy losses on the terrorists in several neighborhoods of Aleppo over the past days.
Many people, including large numbers of security forces, have been killed in the turmoil that began in Syria in March 2011.
On August 14, Syrian Deputy Health Minister Ma'moun al-Zoubi was assassinated in the southwestern city of Dara'a.
On July 18, a bomb attack on the headquarters of the National Security Bureau in Damascus killed Syrian Defense Minister Dawoud Rajiha, Deputy Defense Minister Assef Shawkat, and Assistant Vice President Hassan Turkmani. National Security Bureau chief Hisham Bakhtiar also died, two days later, of the wounds sustained in the attack.