Iraq
Bomb attacks claim 19 lives in Iraq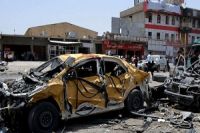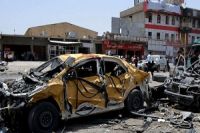 Iraqi security sources say at least 19 people have been killed and nearly 50 more injured in three separate bombs attacks in and around the Iraqi capital, Baghdad.
According to Iraqi officials, speaking on condition of anonymity, a car bomb exploded in a crowded commercial area in a majority Shia neighborhood in Baghdad, killing 11 people and wounding 24 others on Friday.
Reports say a police officer was among the casualties.
Earlier in the day, eight people lost their lives and 23 others sustained injuries when a roadside bomb went off near Baghdad's southern district of Dora and a third explosion rocked the Madain area, situated southeast of the capital.
No group has claimed responsibility for the bombings so far. However, Iraqi officials blame the recent spike in such terrorist attacks on the ISIL Takfiri terrorists.
New figures released by the United Nations show that violence in Iraq claimed at least 1,273 lives in October alone.