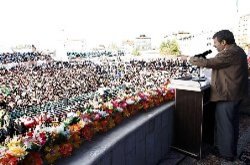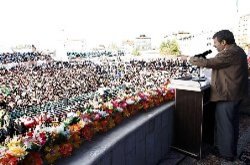 President Mahmoud Ahmadinejad said that bomb builders and those who preserve and use atomic bombs do not have right to take up stand against Iran's peaceful nuclear program.
'Today, the health and security of the European people are in danger,' he said adding that the hegemonic powers have hidden atomic bombs in certain states.
President Ahmadinejad made the remarks in his address to a crowd of people in the western Iranian province of Lorestan
He said that the Iranian nation will stand against those powers' ambitions.
History shows that the US government will sacrifice its friends to its own interests, Iran's president said while referring to Vietnam, Korea and some Middle East states as the evidences.
Creating the Zionist regime is a 'great crime' against the human rights, the President noted.
The president arrived in the provincial capital city of Khorramabad on Wednesday morning. Meeting with the families of martyrs and war veterans as well as the local managers and elites are on Ahmadinejad's agenda during his two-day stay in the province.
This is the President's 87th visit to province since he took office in 2005.
He made the initiative to visit provinces to get familiar with people's problems and to get closer to the ordinary people.