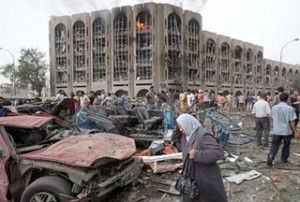 A spate of bomb explosions have ripped through Iraq Central Bank in central Baghdad, security forces have said.
There was no immediate indication of casualties.
Iraq has been witnessing violence-related incidents nearly on a daily basis since the US-led invasion of the oil-rich country in March 2003.
At least seven Iraqi children were killed and 41 people wounded in an explosion outside a school in Baghdad's Sadr City on Monday, Iraqi police officials said.
Also on Monday gunmen killed six members of an anti-al-Qaeda militia group in broad daylight near the Iraqi capital.