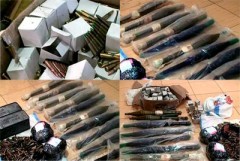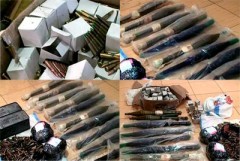 Border Guards' forces in Idleb today foiled an infiltration attempt by an armed terrorist group into the Syrian lands through Ain al-Baida site of Badama, Idleb.
SANA reporter has been informed that Border Guards' forces clashed with 15 terrorists, preventing them from infiltrating into Syria, killing two of them and wounding the others.
The sources said the operation has been carried out successfully after the guards monitored the infiltration of the terrorist group, no casualties or losses were reported in the units of border guards who are ready to confront anyone who thinks to harm security of the Syrian people.
On December 6th, the border guards also foiled an infiltration attempt by 35 armed men in the same site , injuring a number of them while the others escaped into Turkey.
Armed terrorist group bombs gas pipeline near al-Rastan in Homs causing explosion and fires
An armed terrorist group in Homs today bombed the gas pipeline near al-Rastan which caused explosions and fires in the pipeline at the point of bombing.
An official source told SANA that the pipeline targeted by the terrorists comes from al-Omar field into Maharda electricity generating station.
The source confirmed no human casualties were reported and the authorities stopped pumping the gas while fires are extinguished.
Earlier, In an attempt to disrupt the local elections and spread tension, an armed terrorist group on Monday targeted the law-enforcement forces in Sham al-Golan, Daraa Province, resulting in the martyrdom of three law-enforcement personnel.
An official source told SANA's correspondent that the authorities intervened and clashed with the terrorist group, killing four of the gunmen and wounding others.
In Homs city, the authorities on Sunday evening engaged an armed terrorist group, killing and wounding some of its members and arresting their leader.
This group was responsible for assassinating engineer Maher Ghadir, who was assassinated on Saturday morning while heading to work at Abu Rabah Gas Plant.
An official source told SANA's correspondent that the authorities are pursuing the remaining members of the group.
Military Academy Instructor Assassinated Near Saraqeb
An official source told SANA's correspondent in Idleb that an armed terrorist group assassinated Brig. Gen. Ghanim Ibrahim al-Hasan, an instructor at Al-Assad Military Engineering Academy.
Al-Hasan was shot near the town of Saraqeb in Idleb countryside will on his way to Damascus from Aleppo where he works.
Authorities Recover Four Poll Boxes Stolen By Gunmen in Talkalakh
Chairman of the Elections Subcommittee, Judge Abdelrahman Rahmoun said that four poll boxes stolen by hooded gunmen were recovered.
He said that gunmen stole the boxes after attacking election centers in Talkalakh area, and after recovering them, the number of envelopes in them was cross-referenced with the number of voters and the numbers were identical.
The attacks were carried out by two hooded gunmen using a motorcycle accompanied by around 20 people. They attacked an election center in al-Zara School and stole two boxes, then went to Hasserjiye center and stole two more boxes.
Authorities Dismantle Three Explosive Device on Mhardeh-Hama Highway
Engineering units in Hama dismantled three explosives devices planted by armed terrorist groups on the Mhardeh-Hama highway. Each unit weighed 15 kilograms.