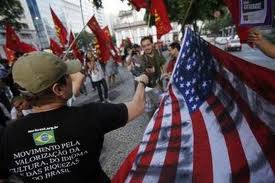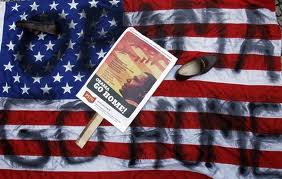 Brazilian police forces have attacked demonstrators who staged rallies in Rio de Janeiro in opposition to US President Barack Obama's visit to the country.
Hundreds of protesters marched from the city center to the US Consulate in Rio on Friday. The rallies were organized by the Unified Party of Socialist Workers (PSTU), a Press TV correspondent reported.
The demonstrators chanted slogans and threw shoes to the US flag hang in front of the Consulate building.
Meanwhile, anti-riot police fired rubber bullets, injuring dozens, including a reporter from the Brazilian CBN radio station. Fifteen people were reportedly arrested during the unrest.
According to Colonel Lima Castro of military police, the attack on demonstrators was necessary since they threw Molotov cocktails.
However, PSTU has strongly denied any violent attack on the US Consulate, saying it was an infiltrated man job.
"They reacted with violence against a peaceful demonstration … We are against any kind of violence," said PSTU Director Marcia Lopes.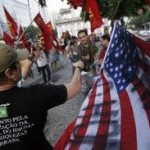 On Monday, Brazilian political and social organizations released a statement saying they consider "President Obama persona non grata," and are opposed to his presence in their country.
Larger demonstrations are expected to take place on Sunday.