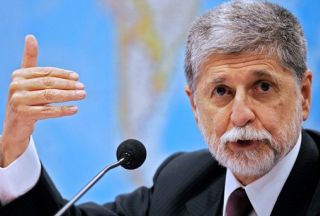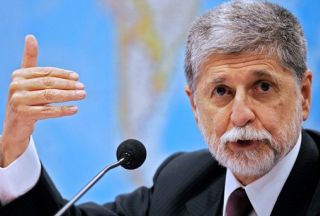 Brazilian Foreign Minister Celso Amorim says Iran's willingness to adhere to the Tehran nuclear declaration, despite recent sanctions, is "positive."
"There is a will to maintain the deal as a base, which is positive because after what happened in the [UN] Security Council, you could fear a less flexible reaction on Iran's side," Amorim told reporters during a visit to Bucharest on Tuesday.
"I am encouraged by the fact that in spite of a lot of rhetoric, which is natural, President Ahmadinejad said that the Tehran declaration (as the nuclear fuel swap deal is known) was still on the table," AFP quoted the Brazilian top diplomat as saying.
Foreign ministers of Iran, Turkey, and Brazil signed the declaration in the Iranian capital on May 17, according to which Iran would ship 1200 kilograms of its low-enriched uranium to Turkey to be exchanged for 120 kilograms of 20 percent enriched nuclear fuel rods to power the Tehran research reactor, which produces radioisotopes for cancer treatment.
However, the West cold shouldered the declaration and imposed a fourth round of UN Security Council sanctions against Iran on June 9 over its nuclear program.
The new sanctions were imposed against Iran despite opposition by Turkey and Brazil that are temporary members of the UN Security Council.
On Tuesday, Turkish Foreign Minister Ahmet Davutoglu voiced Ankara's commitment to work with Brazil in seeking a solution to Iran's nuclear issue.
"We still believe a solution can be found. We are determined to continue our efforts…Brazil will continue to be with us," Davutoglu said.