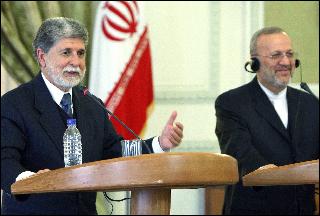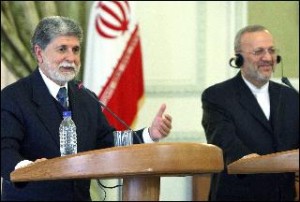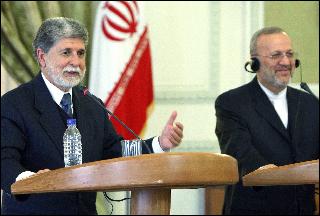 Brazilian Foreign minister Celso Amorim says his country wants to play a positive role in settling disagreements over the Iranian nuclear program.
"Brazil is interested to have a share in settling the [Iranian nuclear] issue in an appropriate way, "Amorim said at a joint press conference with his Iranian counterpart Manouchehr Mottaki in Tehran on Tuesday.
The top diplomat said that his country supports dialogue as the only proper solution and will continue diplomatic efforts to resolve the issue.
Amorim also emphasized that there was no international consensus that Iran had to be isolated over its nuclear work.
On the planned visit of Brazilian President Lula da Silva to Tehran, the minister stated that there has been no outside pressure against the visit.
Brazil decides on its own and makes decisions based on its own principles, Amorim said, describing any such pressure as 'ineffective'.
Mottaki also said during the press conference that Brazil has made efforts to rectify wrong procedures on global issues across the world.
He said that Iran and Brazil could collaborate in the establishment of peace and security in the world.
On a fuel swap deal with the West, Mottaki said that both sides discussed the issue and agreed that the swap could serve as a confidence-building measure both for Iran and the Western side.
Mottaki also said that Iran's relations with Brazil are advancing and that the two sides are moving in the right direction.
Amorim's two-day visit to Iran is intended to pave the way for Brazilian President's tour of Iran next month.