Brazilians commemorate Intl. Quds Day to support Palestinians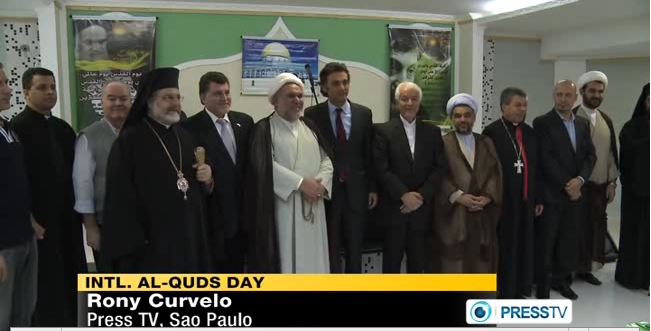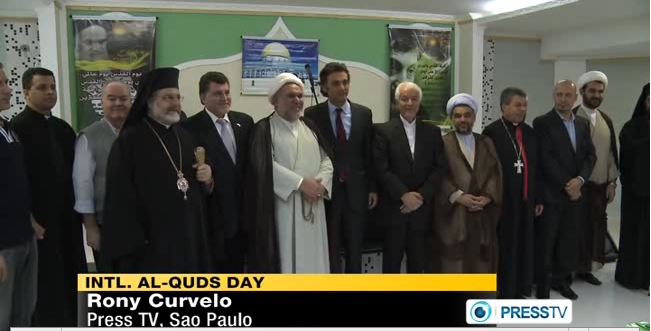 Hundreds of Brazilian Muslims and followers of other religions have come together in the country's largest city of Sao Paulo to highlight the occupation of the Palestinian lands by Israel and show solidarity with the oppressed Palestinian nation, Press TV reports.
Representatives of many non-governmental organizations along with religious scholars, intellectuals and some political figures converged on the Mesquita do Bras on Friday to mark the International Quds Day and voice support for the Palestinian resistance against the Zionist Israeli regime.
"Israel is not as strong as they say they are. Israel is not as powerful as they claim. Therefore, we can't accept that Israel is invincible. The Quds International Day is the time when all Islamic nations face this common enemy, which has occupied the Palestinian territories and usurped the rights to govern them so long," Sheikh Taleb Hussein al-Khazraji, member of the Islamic Center in Brazil, said.
The participants also urged the international community to come forward, and help the people of Palestine secure their right to self-determination.
"We feel that this say is very important for the Palestinian cause and the cause of al-Quds (Jerusalem) and those whose lands and homes were taken from. We also commemorate the event to pay tribute to the (late) founder of the Islamic Revolution of Iran Ayatollah (Ruhollah) Khomeini," Dom Damaskinos Mansour, member of Brazil's Orthodox Catholic Church, told Press TV.
Iranian Ambassador to Brazil Mohammad Ali Ghanizadeh also emphasized that the International Quds Day symbolizes the Muslim unity against the oppressor regime of Israel.
"Thirty-three years ago, Imam Khomeini declared the last Friday of Ramadan as the (International) Quds Day. We intend to exploit potentials of all Muslims worldwide (and) turn their attention to the Palestinian issue," Ghanizadeh stated.
In 1979, Imam Khomeini designated the last Friday of the lunar month of Ramadan as the International Quds Day, during which Muslims across the world hold rallies to show their solidarity with Palestinians.
In Iran, people took to the streets across the country to commemorate the occasion and expressed their solidarity with the Palestinian cause.