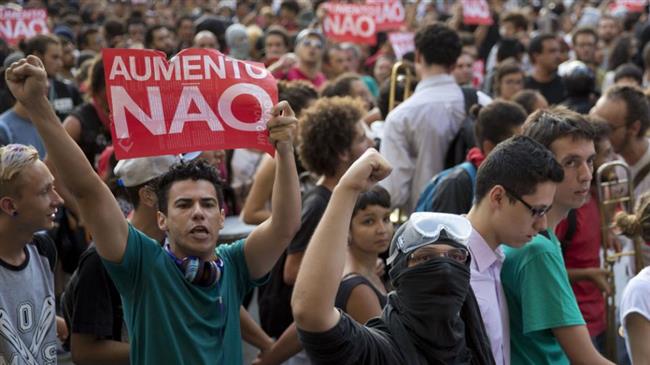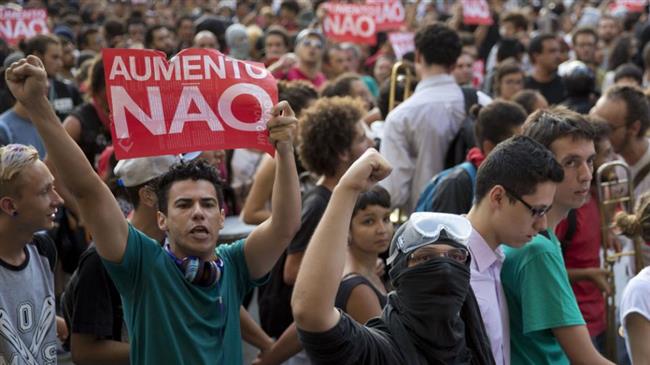 Clashes have erupted between Brazilian police and protesters in Sao Paulo after thousands of people took to the streets to protest against an 18-cent hike in bus and subway fares.
The Sao Paulo police department said on its Twitter page that nearly 2,000 people began a peaceful demonstration on Friday, but two hours later, some protesters started throwing rocks at patrol cars and smashing store and bank windows.
Police used tear gas and pepper spray to disperse the crowds in the country's biggest city and arrested at least 50 people.
Meanwhile, police said some 400 people staged a protest in Rio de Janeiro.
The fare increase went into effect on January 6, some 18 months after a 10-cent rise triggered historic nationwide demonstrations.
The Brazilian Institute of Geography and Statistics (IBGE) said on Friday that annual inflation in Brazil has remained above the 6.5-percent ceiling of the official government target as prices rose 0.51 percent in November.
According to the IBGE, the inflation figure rose 6.56 percent in the 12 months through November.
The Brazilian government is struggling to control the rising prices.
Brazilian President Dilma Rousseff has promised to control public spending to curb inflation, which has weighed on business and consumer confidence.