Latin America
Brazil's Bolsonaro says embassy move to al-Quds 'not decided yet'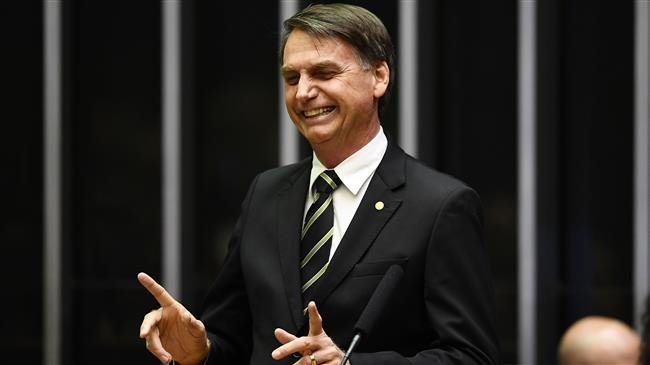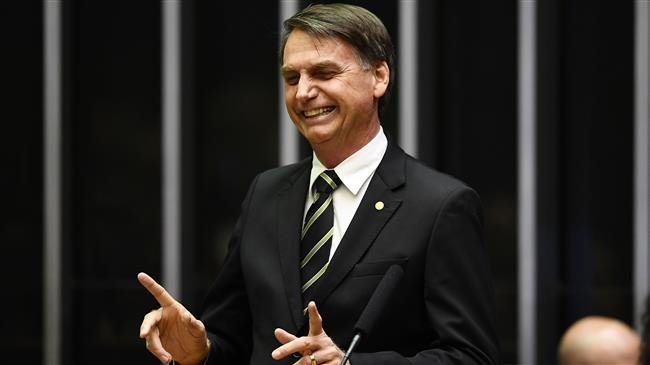 Brazil's far-right President-elect Jair Bolsonaro has hinted he may not go ahead with his controversial plan to move his country's embassy from Tel Aviv to the occupied Jerusalem al-Quds, saying such a transfer "hasn't yet been decided yet."
Bolsonaro's apparent wavering came in remarks on Tuesday, during his first visit to the capital Brasilia since his election victory late last month, and in response to a reporter's question about Egypt's decision to postpone a planned visit to the African country by Brazil's Foreign Minister Aloysio Nunes apparently over the embassy plans.
"From what I know, it's due to a calendar problem," Bolsonaro claimed. "It would be premature for a country to take retaliatory measures against something that hasn't yet been decided."
Bolsonaro — who is due to take office on January 1, 2019 after winning Brazil's presidential election on October 28 — reiterated a campaign pledge last week to follow the lead of US President Donald Trump in moving his country's embassy to Jerusalem al-Quds.
Brazil's far-right President-elect Jair Bolsonaro says he might relocate embassy from Tel Aviv to the occupied Jerusalem al-Quds.
That remark triggered anger across the Muslim world. A senior Palestinian Authority official blasted the plan as "provocative and illegal" and a spokesman for the Hamas resistance movement described it as "hostile."
If Brazil's president-elect does decide to act on the election promise, it will potentially prove costly for the country, since it is a major exporter of halal meat to the Muslim world.
It will also make the largest Latin American state the third nation — after the US and its client state of Guatemala — to make the controversial transfer.
Israeli regime forces occupied Jerusalem al-Quds in 1967 in a move never recognized by the international community. The Palestinians want the city as the capital of a future state for themselves.
Tensions have been running high in the occupied Palestinian territories and the Gaza Strip — administered by Hamas but blockaded by Israel — since last December, when Trump decided to unilaterally recognize Jerusalem al-Quds as Israel's "capital" and relocate Washington's embassy from Tel Aviv to the occupied city.
On December 21 last year, the United Nations General Assembly overwhelmingly voted in favor of a resolution that calls on the US to reverse its controversial policy shift.
Despite the vote, the US went ahead with the embassy transfer on May 14.