Europe
British activists hold legal aid demonstrations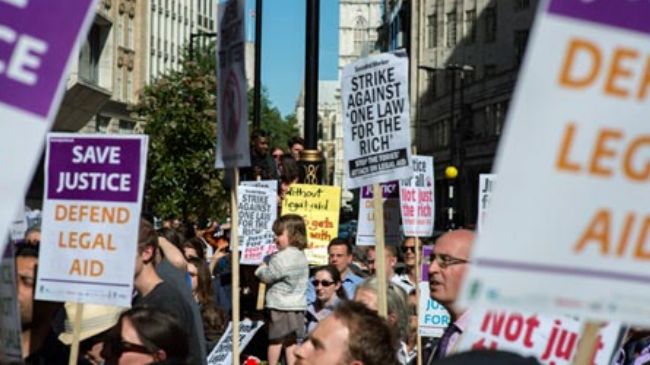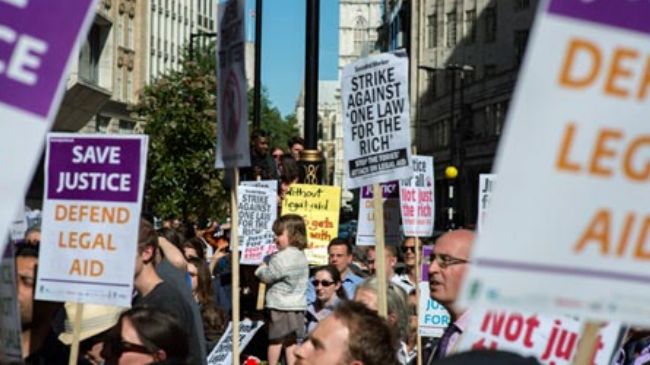 Hundreds of anti-cuts campaigners have staged protests across England to voice their opposition against the British government's plans to cut legal aid fees.
Demonstrations organized by the anti-austerity protest group UK Uncut were held on Saturday, October 5, in seven English towns and cities, including London, Manchester, Cambridge, Liverpool, Hull, Northampton and Norwich.
Protesters blockaded roads near courts to condemn the government's plans to slice a further £220 million from the criminal legal aid budget in England and Wales.
The London action saw activists setting up a roadblock outside The Royal Courts of Justice on the Strand and carrying placards reading, "Justice for all, not just the rich".
"The Government's plans will block access to justice for millions of people. They will cost as much as five times more than they'll save," said UK Uncut spokesman David Conway.
Recently, the Criminal Bar Association (CBA) criticized the Ministry of Justice's (MoJ) proposed changes to legal aid, saying that half of its 5,000 members across Britain now earn less than £40,000 a year, from which they should pay for travel and chamber expenses.
Earlier in June, hundreds of solicitors staged a protest over the government's plans to slash legal aid spending in London.