Europe
Iran
World News
British-Flagged Tanker Leaves Southern Iranian Port
Stena Impero, the British-flagged oil tanker which was impounded in July in the Strait of Hormuz for violating international maritime regulations, left the Southern Iranian port of Bandar Abbas on Friday morning.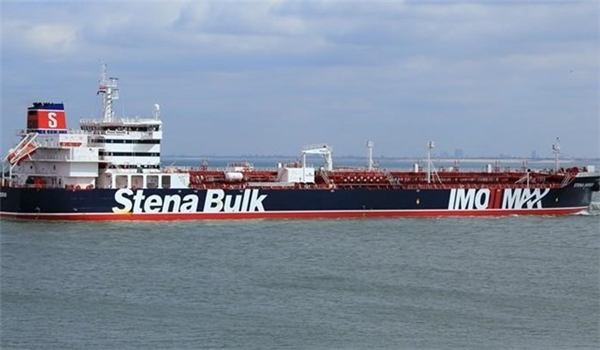 The Stena has set a new destination for Port Rashid in Dubai in the United Arab Emirates, about 250km (155 miles) away, the tracking data showed. At normal tanker speed, it would reach the port within half a day.
Hormuzgan Ports and Maritime Administration confirmed that the ship's commander and crew had made a formal and written commitment that they had no claim, despite the fact that the vessel was seized, and that the case was still open to Iranian judicial authorities. Proceedings will continue to report violations and final results.
On Wednesday, Iranian Foreign Ministry Spokesman Seyed Abbas Mousavi announced that the procedures to release Stena Impero are in final stages.
"Today, the procedures for discharging Stena Impro ship has been finalized with the foreign ministry's follow-ups and valuable cooperation between the Judiciary and the Ports and Maritime Organization of Iran but the case stays open to study some of its violations and damages to the environment," Mousavi wrote on his twitter page on Wednesday.
He added that the owner and captain of Stena Impro have endorsed a written commitment to accept the court's ruling in this regard.
In relevant remarks on Monday, Iranian Government Spokesman Ali Rabiyee declared that Stena Impero is now free to leave Iran with the end of legal proceedings.
Rabiyee told reporters during his weekly presser in Tehran that Iran has decided to condone the violation of international maritime regulations by the Stena Impero, adding that the British-flagged tanker is now free to leave the Southern Iranian port of Bandar Abbas, as the legal formalities have been observed and completed.
On Sunday, Head of the Ports and Maritime Department of Iran's Hormuzgan Province Allahmorad Afifipour announced that his country would soon release the Stena Impero.
Stena Impero was impounded by Iran's Islamic Revolution Guards Corps (IRGC) on July 19 for numerous violations of international maritime regulations when it was passing through the Strait of Hormuz.
The British-flagged vessel has 23 crew members, 18 of which were from India. The other crew members are from Russia, Latvia and the Philippines.
Last Monday, Mousavi said that the Stena Impero, which was impounded because of violating maritime regulation in the Strait of Hormuz, will be soon freed after observing legal proceedings.
Legal proceedings against UK-flagged Stena Impero are "almost finished" and there remains just "two or three formalities" to take care of before releasing the ship, said Mousavi in his weekly press conference.
"This release is not being made because of any third party's mediation," he highlighted.