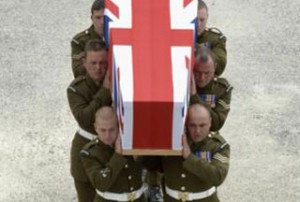 Alleged bomb attacks kill two British soldiers south of Afghanistan, as hundreds of new recruits land in the war-torn country on the so-called counterinsurgency mission.
The Tuesday attack in the southern province of Helmand also killed two Afghan security forces, a Press TV correspondent reported, quoting local authorities.
The raid targeted a military compound jointly used by the British troopers and the Afghan security forces, Davoud Ahmadi, the spokesman for the provincial governor told our correspondent.
The head of the Afghan army in the province, Maharuddin Ghori said the incident took place at a marketplace in the town of Sangin at around 4 p.m. local time (1130 GMT).
Hundreds of British troopers have just set foot on the Afghan soil to boost the final chapters of the so-called eight-year-old war on militancy.
The war, which currently enlists some 113,000 American and foreign troopers, has failed to bring any sign of stability to the violence-weary nation while killing many thousands of Afghan civilians.
The United States, however, has pledged to send 30,000 more soldiers into action and has ensured the allies' commitment of 7,000 additional troops.
The new British arrivals are the first batch of the 500 forces Number Ten has earmarked for the war at the US request.
Also on Tuesday, the body of the 100th Briton killed in Afghanistan, Lance Corporal Adam Drane, was shipped home, raking up old grievances against Prime Minister Gordon Brown, who is accused of sending the soldiers into the operations without supplying sufficient and reliable equipment.
The former chief of the British army and current Conservative Defense Adviser, General Sir Richard Dannatt, has attacked Brown for being clueless as to the situation on the ground, saying it had taken the prime minister two years to finally understand what the troops face in Helmand province, where they are stationed.
Some 494 UK troops have died over eight years of US-led operations in Afghanistan.