Europe
Britons hold Black Lives Matter protests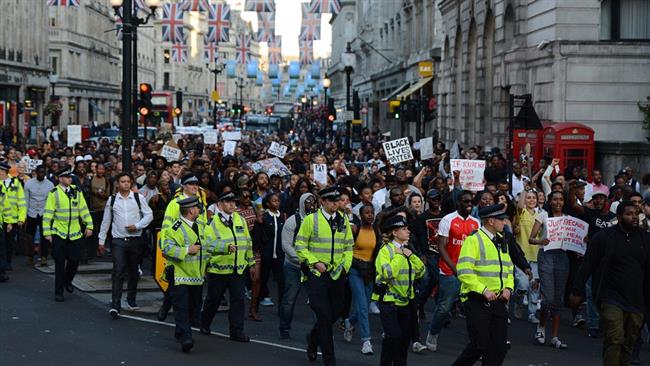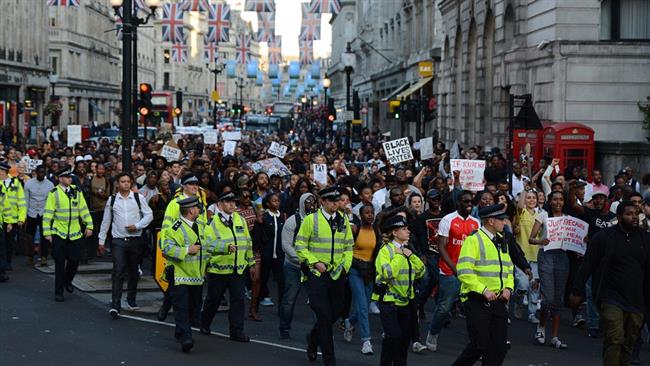 British people have joined the 'Black Lives Matter' movement, holding demonstrations in the capital to protest against the killing of two black men by police in the United States.
Nearly 300 people gathered in Windrush Square in Brixton, south London, Saturday and blocked traffic and then marched to the police station before heading through neighboring streets.
As protests, which were the second show of British support for African Americans, continued blocking traffic outside the Ritzy Cinema, a number of buses and cars were forced to queue back along Brixton Road.
The protesters were chanting "black lives matter," "hands up, don't shoot" and "racist police, our streets."
"By these people coming here to stand and unite, they are showing that they are against police brutality and that's the most important thing. People forget that racism is a worldwide thing. It's still very prevalent. This is ultimately a cry for help," said Marayam Ali, the founder of the Black Lives Matter movement in London.
Vincent Lee, a protester, said that "it is a mess. Predominantly it is happening in America with their gun laws but we came down to show we are united with them."
The rallies came after 37-year-old Alton Sterling was fatally shot by police in the southeastern city of Baton Rouge, Louisiana On Tuesday and  32-year-old Philando Castile was shot dead Wednesday by a police officer near St. Paul, Minnesota.
The shootings led to thousands of people holding demonstrations in cities across the United States on Thursday, Friday and Saturday.
During protests on Thursday night in Dallas, Texas, an armed US army reservist shot dead five white police officers and wounded seven others in an apparent retaliation for repeated police killings of unarmed African Americans across the country.