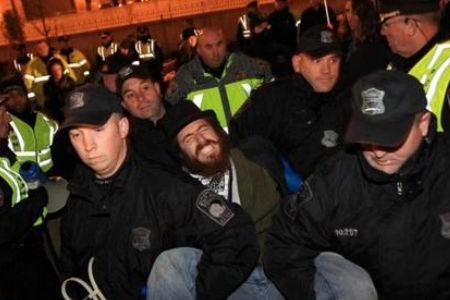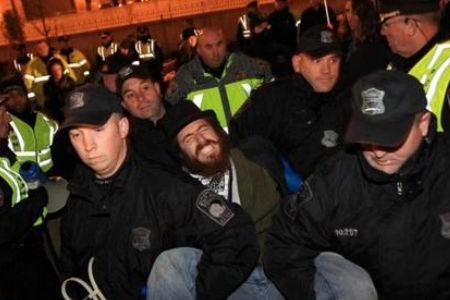 Hundreds of US police have started dismantling the Occupy encampment in Boston, Massachusetts, arresting at least 40 protesters who refused to leave the site.
On Saturday, police arrested at least 40 people during their violent raid on the Occupy Boston encampment.
On Friday, Boston police arrested at least two protesters who refused to remove a tent stationed in the street which was blocking traffic, the Associated Press reported.
The move comes as the Boston Mayor Thomas Menino set a deadline for the Occupy protesters to leave the camp by midnight Thursday or face police action.
Menino called on protesters to be the first Occupy protesters to end their occupation and "be gone like a gypsy squad."
Earlier this week, a Boston judge ruled against the protester occupation camp, calling their occupation "a hostile act".
Most occupiers have moved to Boston's Dewey Square, meanwhile blocking the city's Atlantic Avenue.
The encampment site in Dewey Square in the city's financial district first began occupying the site on Sept 30.
The encampment is part of a series of protests nationwide that have been credited with drawing attention to the issues of social and economic inequality.
The movement was inspired by the Occupy Wall Street campaign (OWS), which began in New York's financial district on September 17 in protest to 'corporate greed' and high-level corruption in the country.
The movement spread across the US during the fall, with camps emerging in different US cities, including Philadelphia, Los Angles, and Portland.
Police have cleared out camps in New York and Los Angeles, arresting hundreds of people. The crackdown, however, has fallen short of ending the campaign.