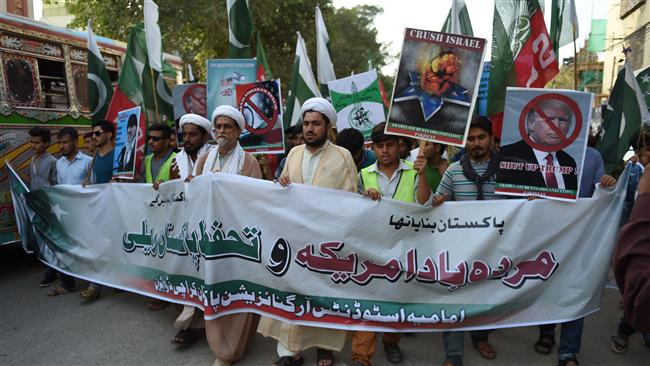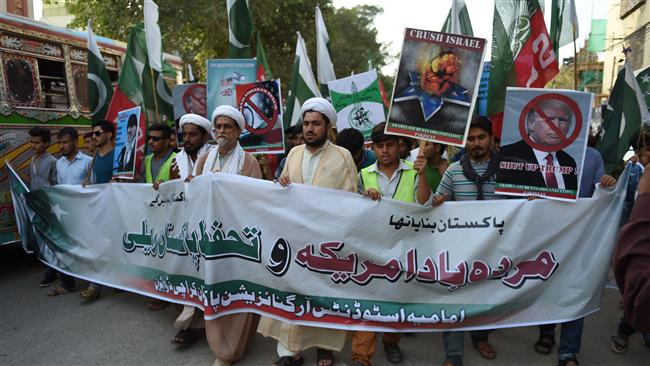 Pakistani police have fired tear gas canisters and used batons to disperse anti-US protesters in the southern port city of Karachi.
Clashes broke out on Sunday, when Pakistani security forces blocked the march of dozens of Shia student protesters who tried to reach the US consulate, said police officer Irfan Baloch, adding that at least a policeman sustained injuries in the process.
The demonstration was an apparent reaction to US President Donald Trump, who accused Pakistan on August 22 of giving "safe haven to agents of chaos, violence and terror," who purportedly kill American troops in Afghanistan.
Islamabad has flatly rejected Trump's allegations, saying its troops fight against militants and that the Pakistani nation has made sacrifices in the war on terror.
Meanwhile, another group of protesters in the capital held a peaceful demonstration, called "Defense of Pakistan," denouncing Washington's policy.
Pakistani troops have for over a decade been battling militants to curb insurgencies by the terrorist groups of Taliban and al-Qaeda.
The army has managed to reduce violence across the country in recent years following a series of counterterrorism operations conducted against militants, but every so often remnants of terrorist groups carry out periodic bloody attacks, both against people and the armed forces, particularly in the northwest.
Since 2001, thousands of Pakistanis have lost their lives in bombings and other militant attacks, and many more have been displaced. The year was when Pakistan entered an alliance with the United States in Washington's so-called war on terror.