Saudi Arabia
Human Rights
Middle East
Brutal Saudi Regime executes 3 soldiers for collusion with unnamed enemy
Saudi Arabia has executed three members of its military forces for "high treason" over accusations of colluding with an unspecified enemy.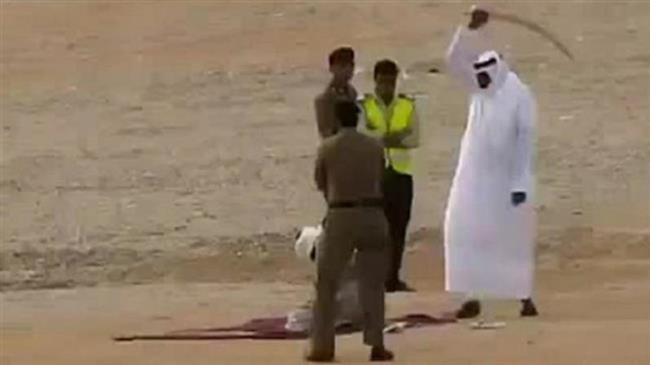 The Saudi Defense Ministry said in a statement carried by official Saudi Press Agency that the three soldiers had been convicted of "the crime of high treason in cooperation with the enemy" in a way that threatened the kingdom and its military interests.
The statement named the three soldiers — Mohammed bin Ahmed, Shaher bin Issa and Hamoud bin Ibrahim — without specifying which enemy they were accused of colluding with.
The defense ministry said the soldiers were executed in the Saudi military's Southern Command close to the border with Yemen, which has been the scene of a brutal military aggression by the regime in Riyadh and its allies over the past six years.
The Umma Islamic Party of Saudi Arabia said the execution of the three soldiers, who were deployed to the Jizan frontine in the kingdom's ongoing war against Yemen, was an attemp to intimidate troops and prevent them from fleeing their positions, especially after their salaries and benefits were sharply cut.
The war has left more than 200,000 Yemenis dead, and displaced millions more.
The United Nations says more than 24 million Yemenis are in dire need of humanitarian aid, including 10 million suffering from extreme levels of hunger. The world body refers to the situation in Yemen as the world's worst humanitarian crisis.
The Saudi war has also taken a heavy toll on Yemen's infrastructure, destroying hospitals, schools, and factories.
Saudi Arabia has come under fierce global criticism over its human rights record since the 2018 murder of dissident journalist Jamal Khashoggi at the kingdom's Istanbul consulate and the detention of women's rights activists.
Ever since Mohammed bin Salman became Saudi Arabia's de facto leader in 2017, the kingdom has ramped up arrests of activists, bloggers, intellectuals, and others perceived as political opponents, showing almost zero tolerance toward dissent.
Muslim scholars have been executed, women's rights campaigners put behind bars and tortured, and freedom of expression, association, and belief continue to be denied.
Saudi Arabia executed more than 2,000 people between 1985 and 2016. Rights groups, including Amnesty International, have cited rampant cases of torture and unfair trials.