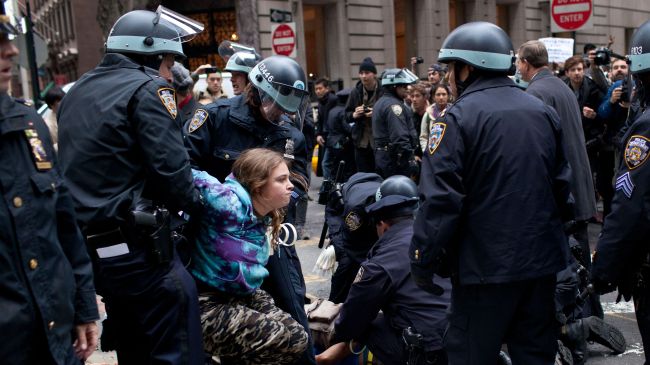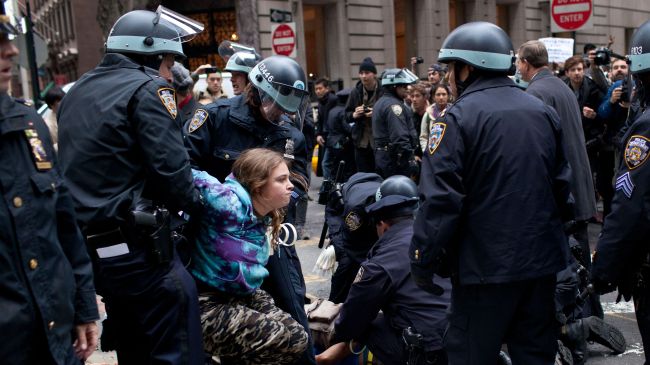 US police forces have clashed with Occupy protesters in New York City, arresting dozens of the 99-percenters on the sixth-month anniversary of the Occupy Wall Street Movement, Press TV reports.
The police stormed the crowd of protesters on Saturday night and arrested those 99-percenters who tried to reoccupy the Zuccotti Park, the focal point of the anti-Wall Street campaign in New York's financial district.
The protesters sat down and locked their arms as officers moved in at about 11:30 p.m.
The 99-percenters chanted, "We are not afraid" as the police began pulling people from the crowd, one by one, and leading them out of the park in handcuffs.
On Saturday evening, the protesters grew larger in numbers as several dozen police ringed the park.
Earlier in the day, the demonstrators had marched on nearby Wall Street, where the police made another unspecified number of arrests.
The protesters use the slogan, "We are the 99 percent" to distinguish themselves from the one percent of Americans who are in possession of the greatest portion of the nation's wealth.
The Occupy movement, emerged after a group of people on September 17 rallied in New York's financial district under the motto of 'Occupy Wall Street,' protesting corruption, poverty as well as social inequality in the US.