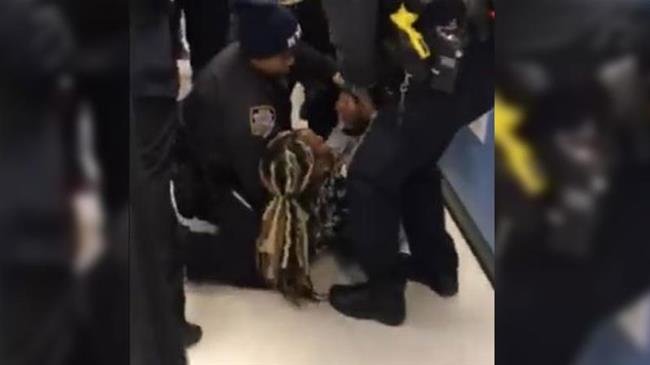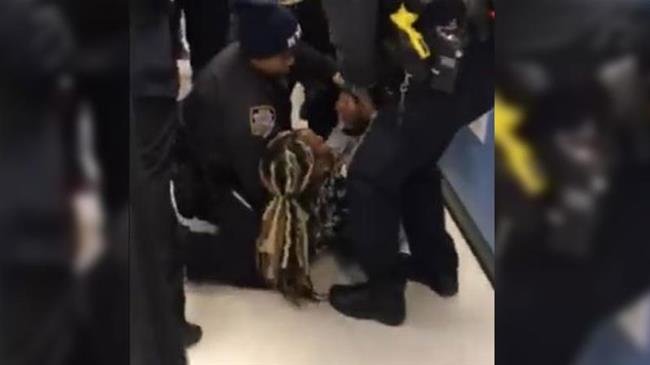 A video showing New York police violently ripping a one-year-old baby from his mother has caused outrage on social media.
The intense video clip, shared on social media, shows 23-year-old mother Jazmine Headley cradling her son and shouting "they're hurting my son! They're hurting my son!" while several officers try to detain the woman.
A few moments later, a female police officer is seen trying to violently rip the child out of the mother's grip.
As enraged onlookers urge the officers to let go of the child, the previous officer who had repeatedly yanked the toddler is seen drawing a stun gun on the crowd.
The ordeal ends after the mother is handcuffed and taken away.
Nyashia Ferguson, the Facebook user who had filmed the scene, says the ordeal happened after security guards called on police to remove the mother who was sitting on the floor of the Brooklyn food stamp office because there were no available chairs.
"They think that people that are poor don't have nothing, so you can treat them any kind of way," said Ferguson speaking to the New York Times.
"They're always rude."
According to a later police statement, Headley was charged with "resisting arrest, acting in a manner injurious to a child, obstructing governmental administration and trespassing."
The mother has since been held without bail.  The child is currently being cared for by relatives.
According to Deputy Commissioner and police spokesperson Phillip Walzak, the involved officers have remained on full-duty status.
The related department has, however, claimed to be investigating the case.
The incident marks one of the latest cases of outrage over the New York police's irresponsible use of force against unarmed people of usually African or Latino backgrounds.
The repeated cases come despite the police department's implementation of what it calls "de-escalation training".
Brooklyn College sociology professor Alex S. Vitale, who coordinates an academic police and social justice related project, believes these officers, however, showed no effort at de-escalation.
"It's just hard to imagine what possibly could have transpired before the video starts that would have warranted that level of force in those circumstances."
The New York Police Department's de-escalation training was introduced after the highly publicized case of Eric Garner, an unarmed black man who was choked to death by a police officer in 2014.