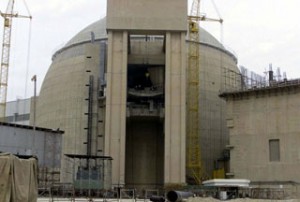 The head of Iran's Atomic Energy Organization (AEO) says the Bushehr nuclear power plant in the south of the country will be operational after three more tests.
Speaking to the Fars news agency, Ali Akbar Salehi estimated that the power plant would come on stream upon successful completion of the final three tests.
He said the launch of the plant would be in line with a timeframe agreed to by Iran and Russia.
"We have drawn up a timetable for the operation of the Bushehr plant with Russia and fortunately we are ahead of this timeframe," Salehi said.
The nuclear point man added that the plant was among the world's "safest" newly built power plants. He also reiterated that Iran will never sacrifice the plant's safety for its early launch.
The construction of the Bushehr plant started in 1975 when Germany signed a contract with Iran. Berlin however pulled out of the project following the 1979 Islamic Revolution.
Iran then signed a deal with Russia in 1995. Under the deal, the plant was originally scheduled to be completed in 1999 but the completion has been repeatedly delayed.
Russia has so far denied political motives behind the delay of the much-awaited launch of the plant.
On the Arak reactor, Salehi said the heavy water reactor which is under construction in central Iran would become operational within the next four years.
He said Iran was producing two kinds of fuel for the reactor, a dummy fuel to test the reactor and real fuel for its future operation.
Dummy fuel resembles real fuel in outward features, but it does not contain uranuim,Salehi added.