Awakening
Human Rights
North America
World News
California braces for second wave of coronavirus due to arrests, police tear gas, reopening
The coronavirus outbreak has been on the rise in the US state of California over the past week, prompting health experts to warn that reopening and police use of tear gas and pepper spray against the protests over the death of George Floyd could exacerbate the pandemic.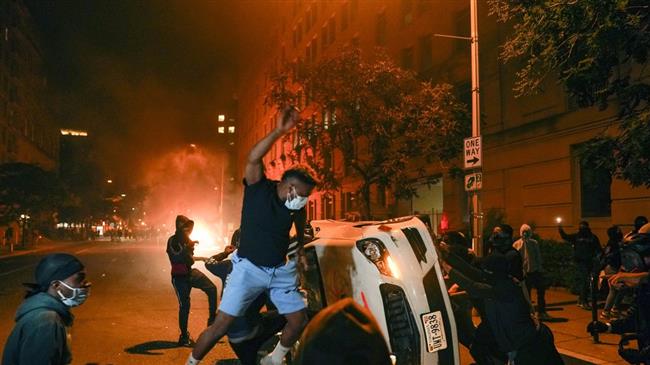 The US, which stands on the top of the list of the worst-hit countries around the world, has so far reported 1,851,520 confirmed cases and 107,175 deaths, according to Johns Hopkins University data.
According to the data, California is one of 20 states that have seen an uptick in cases in the past five days amid the protests.
California has seen a record rise in the daily number of corona cases this week, after the number of positive cases of COVID-19 jumped to more than 3,000 on Monday.
The figure pushed the state's tally to 115,000 known cases and more than 4,300 deaths, so far.
In Southern California, home to most of the state's cases, Los Angeles County reported almost 10,000 cases just last week, including a single day record of 2,050 cases, according to data from the state's public health department.
Northern California's San Francisco bay-area counted 263 new cases on Monday, raising the total to 13,655.
This is while, the state has been held up as a model for its response to the virus outbreak, by imposing early lockdown measures and being slower to lift shelter-in-place orders compared to other states.
The director of the Center for Public Health and Disasters at UCLA, David Eisenman, told the Guardian that the rise was to be expected as several counties moved to reopen their economies.US coronavirus deaths pass 100,000 as country reopensThe novel coronavirus has killed more than 100,000 people in the United States as businesses reopen months before presidential election.
He said that warm weather also played role by drawing Californians to beaches and parks.
Eisenman also said that packed protests "over George Floyd's murder during this Sars-CoV-2 pandemic will increase community transmission of this highly contagious virus and contribute to increased incidence of morbidity and mortality associated with Covid-19."
On the top of his concerns are tactics that police have been using to quell protests, including tear gas and pepper spray, which he said "is going to fuel any spreading that was going to occur anyway."
"The issue of tear gas is central to Covid," he said. "Too much has been made about physical distance protesters should abide by, and not enough has been said about the tactics law enforcement is using."
"It causes people to cough and sneeze – on each other, and on the police if they get rounded up and confined. Cops are putting people side by side, removing their masks, and cuffing them so they can't cover their mouths," he added.
He said it's crucial for those who will be attending protests to follow precautions when they return home, including self-isolation and testing within three days of attending a demonstration.
Eisenman, however, described the protests as a necessary step in affecting change, and is calling for safe practices as they continue.
"Racism is as bad for health as Covid-19" Eisenman said. "Probably even worse."
On Wednesday, nationwide protests continued for the ninth straight day since Floyd's killing by a white police officer in Minneapolis on May 25.
Police fired tear gas against the mostly peaceful protesters in Los Angeles and New York City, and arrested nearly 5,000 people.
Protesters also rallied in the streets of West Hollywood, in downtown Los Angeles, calling for justice for Floyd's death.
More than 3,000 protesters have been arrested in Los Angeles county since Friday, police said, the overwhelming majority of them for non-violent offenses.
In the city of Los Angeles alone, officers have arrested about 2,700 protesters, the Los Angeles police chief, Michel Moore said. About 200 of those arrests were for looting and acts of vandalism, while 2,500 were for failure to disperse or breaking curfew.