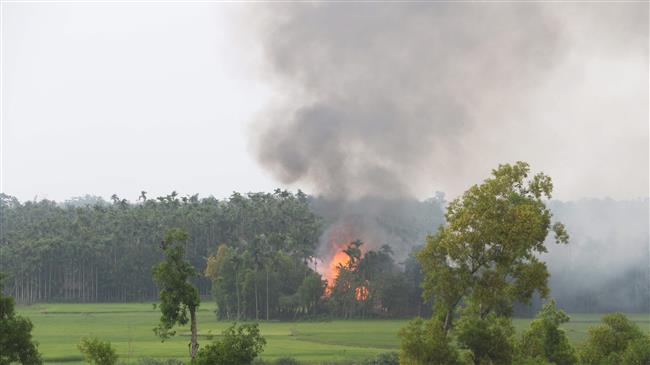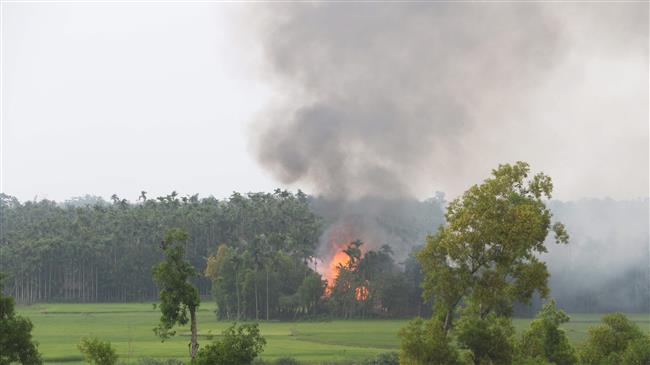 Canada's foreign minister says what has taken place against the Rohingya Muslim community in western Myanmar constitutes "ethnic cleansing."
Speaking at a meeting of the United Nations Human Rights Council in Geneva on Thursday, Chrystia Freeland described the atrocities against the Rohingya people in Myanmar's Rakhine State as "ethnic cleansing."
Thousand of Rohingya Muslims have been killed in state-sponsored violence that began in late 2016 and intensified in August 2017. Nearly 700,000 Rohingya have also escaped to neighboring Bangladesh since August last year.
Myanmar, however, has constantly denied that ethnic cleansing has taken place, and claimed that its military has been engaged in "legitimate counterinsurgency operations."
Freeland, a former editor of Thomson Reuters Digital, also said that she was gravely concerned about the imprisonment of two Reuters journalist for covering the violence against the Rohingya people.
"For true democracy to flourish, fundamental freedoms such as freedom of the press must be respected. That is why Canada is gravely concerned by the imprisonment of two Reuters journalists who dared to report on the crimes in Rakhine State," she said.
The journalist — Wa Lone, 31, and Kyaw Soe Oo, 27 — had been working on a Reuters investigation into the killing of 10 Rohingya Muslim men who were buried in a mass grave in Rakhine.
They were arrested last December during a meeting with two police officials over dinner for "possessing important and secret government documents related to Rakhine state and security forces."
Earlier this year, they were officially charged for breaching a colonial-era law. The charges brought against them could carry a penalty of up to 14 years behind bars.
Myanmar claims it recognizes freedom of the press, but it has blocked UN investigators from accessing an area where thousands of Rohingya are believed to have been killed.
The UN human rights office said earlier this month that it was "alarmed at the serious erosion of freedom of expression in Myanmar."
Government troops have been committing killings, making arbitrary arrests, and carrying out arson attacks in Muslim villages in Rakhine.
Myanmar's plan to resettle refugees scares more of them away
Meanwhile, thousands of Rohingya Muslim refugees who had been living on a strip of land on the border between Myanmar and Bangladesh have fled the area to take refuge in camps inside Bangladesh.
The exodus came after the two countries agreed on the resettlement of Rohingya refugees from Bangladesh back to Myanmar.
Since representatives from the two sides met to discuss the issue on February 20, half of the refugees have left the no man's land and entered into Bangladesh, according to a senior Bangladeshi border guard official, Major Iqbal Ahmed.
"They are leaving the place in fear," he told Reuters on Tuesday. "Now there are roughly 2,500-3,000 people in the no man's land. We talked to some of them and asked them to go back, but they said they can't."
Refugees on the border say there is no guarantee for their safety back Myanmar.