North America
Canadian capital, Montreal in emergency state amid floods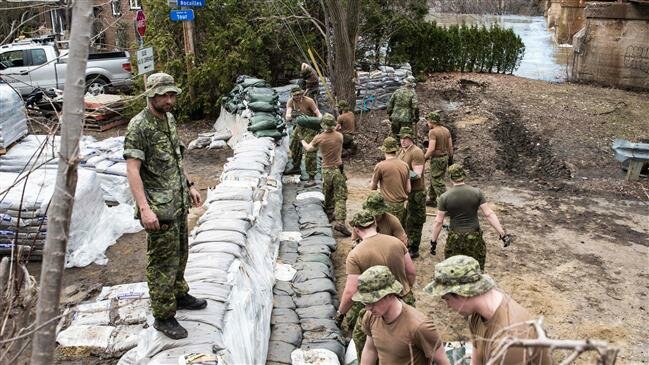 Canada's second largest city Montreal is on high alert over the threat of spring flooding, as residents in the capital Ottawa brace for more heavy downpours over the weekend.
Montreal Mayor Valerie Plante declared a state of emergency late Friday, saying that water "is continuing to rise and we are concerned."
Officials said up to 60 mm (2.4 inches) of rain could hit the city from Friday to Saturday.
Under the emergency state, officials will initiate mandatory evacuations and free up funding.
"We are asking citizens in flood-risk areas to remain vigilant and to continue to work toward securing their homes," Plante said.
Ottawa has also declared a state of emergency in response to flooding along the Ottawa River.
The river and tributaries are expected to continue rising over the next several days, the city warned.
Stay safe! Avoid electrocution through water. If you see flooding, do not enter rooms with water or wet flooring.
The country's environmental agency, Environment Canada, issued a special weather statement for the capital, predicting heavy rainfall, with 20 to 35 millimeters (around an inch) forecast by Saturday morning.
Mayor Jim Watson has asked Ontario's provincial government for help in Ottawa. Some 400 soldiers also arrived in the city on Friday.
On the other side of the Ottawa River, which separates Ontario from Quebec, heavy flooding threatens residents as a hydroelectric dam is at risk of failure, official said,
"The water flows have reached all-time record levels," said Canadian Public Safety Minister Ralph Goodale. "The engineers who designed the facility believe that it was designed to withstand this volume, but it's still raining in the region so the problem could worsen.
Authorities called for the affected areas to be evacuates immediately.
"The evacuations have already now largely taken place," Goodale said. "The problem is that if the dam were to give way, people in the area would have less than an hour to get out of the surging water.
Emergency officials said more than 3,100 homes have been flooded and more than 1,100 residents have been evacuated in Quebec in recent days.
The province's premier, François Legault, said those who face likely flooding have either already received sandbags to protect their homes or would receive them in time.
Eastern Ontario was also hit hard by rising waters caused by rain and rapid snow melt.
Goodale warned that further "dangerous and damaging flood water" could cause damages in in the region.
Residents in Eastern Canada are not strangers to heavy flooding as the area was hit by the worst flooding in a half a century, two years ago. Now officials are concerned that some areas in the area could experience flood levels exceeding the 2017 levels.