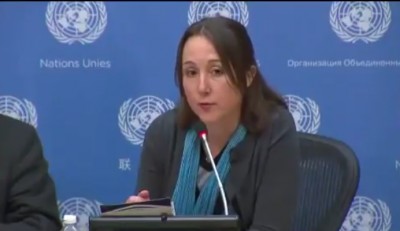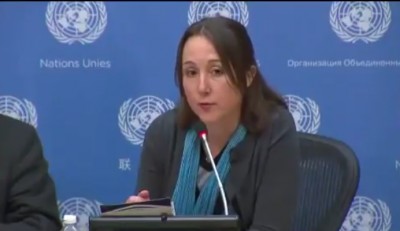 Canadian journalist, Eva Barlett, completely dismantled mainstream media's narrative on events taking place in Syria.
The freelance journalist has repeatedly visited Syria since the conflict began in 2011, in a bid to get a sense of the realities on the ground.
In a press conference organized on Friday by the Syrian mission to the United Nations, Barlett delivered her remarks regarding the current situation in Aleppo and throughout the country, in which she pointed out Western media bias regarding the conflict.
She was asked by a journalist from the Norwegian newspaper Aftenposten what the incentive was for Western media to spin a false narrative.
The Norwegian journalist asked her about "the agenda from us in the Western media, and why we should lie –why the international organizations on the ground should lie?…How can you justify calling all of us liars?"
The Canadian journalist pointed out that there are "certainly honest journalists among the very compromised establishment media. However, she started off by challenging the assertion about the 'international organizations' on the ground in eastern Aleppo. The reality, she noted, is that "there are none."
"These organizations are relying on the Syrian Observatory for Human Rights [SOHR], which is based in Coventry, UK, which is one man. They're relying on compromised groups like the White Helmets. Let's talk about the White Helmets: They were founded in 2013 by a British ex-military officer, they have been funded to the tune of $100 million by the US, UK, Europe and other states."
Bartlett also recalled that while the White Helmets "purport to be rescuing civilians in eastern Aleppo and Idlib…no one in eastern Aleppo has heard of them; and I say 'no one' bearing in mind that now 95% of these areas of eastern Aleppo are liberated." At the same time, "The White Helmets purport to be neutral, and yet they can be found carrying guns and standing on the dead bodies of Syrian soldiers."
Furthermore, she noted, "their video footage actually contains children that have been 'recycled' in different reports; so you can find a girl named Aya who turns up in a report in say August, and she turns up in the next month in two different locations."
"So they [the White Helmets] are not credible. The SOHR are not credible. 'Unnamed activists' are not credible. Once or twice maybe, but every time? Not credible. So your sources on the ground – you don't have them," Bartlett said.