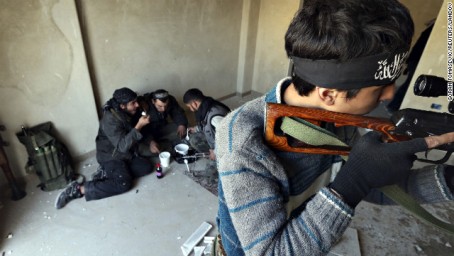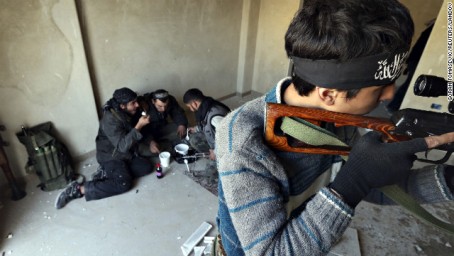 Young Canadians are hurrying to Syria in record numbers to join rebels in their fight
against the Syrian government, raising fears among security services at home
about Al Qaeda's access to Western recruits.
It is estimated that at least 100 Canadians — mainly in their 20s and coming from Ontario and
Alberta — have left for Syria in the past year, joining a steady march of foreigners drawn to the conflict, security sources say.
"Our government is acutely aware of this issue," said Frederik Boisvert, spokesman for Public Safety Minister Steven Blaney, noting Ottawa passed the Combating Terrorism Act in April, which makes it a crime to leave the country — or even attempt to — to engage in terrorist activities.
The Canadian government is not alone in tracking its citizens travelling to Syria.
Although estimates vary on the number of foreigners fighting in the country, Matthew Olsen, director of the U.S. National Counterterrorism
Center, recently called Syria the "predominant jihadist battlefield in the world."
Others had already adopted Al Qaeda's global agenda while still in Canada. For them, Syria provides a perfect battleground and has
surpassed Afghanistan, Iraq, North or East Africa as the destination of choice.
Foreigners inside Syria are also increasingly being kidnapped or killed by Al Qaeda-linked
groups, making Syria one of world's most dangerous places for journalists.
U.S. photographer Matthew Schrier, who was seized Dec. 31, went public Friday with details of his torture and captivity.
He told New York Times journalist C.J. Chivers how he was held in bases and prisons run by two Islamist rebel groups. He described his captors
as both savvy and cruel: they accusing him of being an American spy, beat him and assumed his identity online to send emails to his mother and friends.
He said he believed some of his captors were Canadian.
In Syria, where Al Qaeda-linked groups are fast emerging, foreigners can easily make contact with hardened fighters across borders; not only Canadians joined opposition forces, but some joined its internal conflicts because some Canadians were reported to fight with al-Qaeda against Kurds in some Syrian cities.
Finally, Michel Coulombe stated "the spectre of these young people returning to Canada — with combat experience and thoroughly radicalized views — is a serious national security concern."