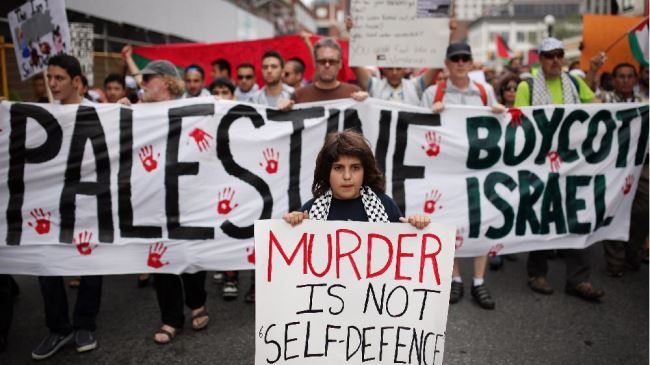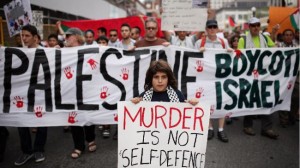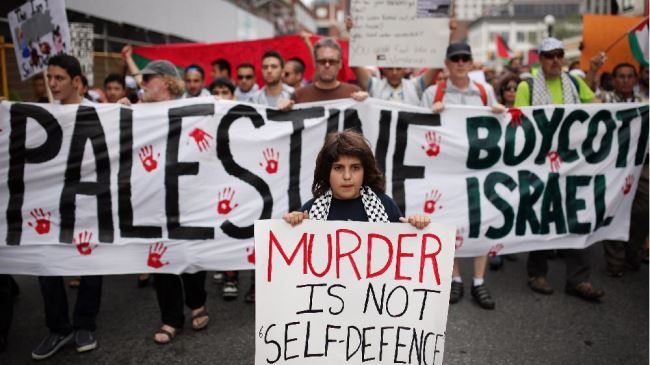 Canadians have taken to the streets in the capital, Ottawa, to protest against Israel's onslaught on the Gaza Strip and against Prime Minister Stephen Harper's support for the Israeli regime.
Some 500 protesters marched on Saturday through the capital toward Parliament Hill, voicing their anger at Harper and calling for an end to Israel's war on Gaza.
Demonstrators held signs, banners and Palestinian flags and chanted "Free, free Gaza. Shame, shame Harper."
"The fact that my government supports and justifies every single crime committed by the Israeli government makes me sick," said Janan Arafa, a speaker at the protest, adding, "I am ashamed that… Canada is governed by a man like Mr. Stephen Harper."
In addition, the protesters criticized Liberal leader Justin Trudeau and Tom Mulcair, the head of the New Democratic Party of Canada, for not publicly condemning the Israeli regime for its military attacks against the besieged Gaza Strip.
Protest leaders in Ottawa vowed to continue their rallies until the end of Tel Aviv's attacks on Gaza.
A similar protest was held in Toronto, where demonstrators marched through the city toward the US consulate to demand that Washington take action against the Israeli aggression.
Protesters also took to the streets in London, Paris, and Edinburgh calling for an end to the Israeli regime's bloodshed in the war-torn Gaza Strip.
The Palestinian death toll has reached about 1,050 from three weeks of Israeli strikes; at least 6,000 Palestinians have also been injured in the attacks.