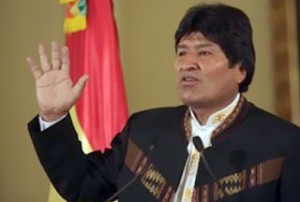 Bolivian President Evo Morales has called for the "elimination" of the capitalist system in order to "rid the world of its woes."
In an interview with Aljazeera television network in the Danish capital of Copenhagen on Wednesday, Bolivia's leader slammed capitalism for forestalling efforts to seal a deal on the reduction of CO2 emissions at the climate change summit.
"The principle obstacle to combating climate change is capitalism. Until we put an end to capitalism, it will continue to be a big obstacle for life and humanity," Morales said.
Morales expressed disappointment with the deadlock at the climate summit and blamed the relentless capitalistic pursuit of profit and over-industrialization for the possible failure of the much-awaited talks.
He also said that the increasing pace of the global warming has triggered the disappearance of mountain snows and thus the Bolivian communities' water sources.
Heads of states from over 100 countries are due to attend the closing day of the summit on Friday amidst rows between the rich nations and the poor over who should fund the emissions reduction costs and who should benefit from the greenhouse gas cuts.