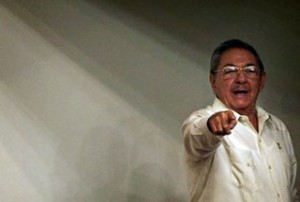 Cuban President Raul Castro has accused the US of continuing hostile policies against his government through distribution of illegal satellite equipment.
"The enemy is as active as ever, as demonstrated by the detention in recent days of a US citizen," Castro told country's National Assembly.
"In recent weeks, we have witnessed an increasing number of efforts by the new (US) administration with that objective," the 77-year-old successor of Fidel Castro added.
His words came after the detention of an unidentified American contractor on December 5 who was arrested for distributing cell phones, laptops and communications equipment in Cuba.
The American man "was involved in illegally supplying sophisticated means of communications to 'civil society' groups hoping to coalesce against our people," the Cuban president continued.
Raul Castro believes that Obama's "friendly smile and African-American face" are hiding Washington's sinister intentions for Latin America and that Washington earmarked 55 million dollars to support Cuban dissidents.
The US State Department says the arrest of the US citizen can disturb sensitive US-Cuban relations. The arrest is said to be a warning to the Obama administration not to pursue USAID-funded programs with the excuse of supporting human rights and civil society in Cuba.
"If the American government really wants to advance relations with Cuba," Raul Castro said Sunday, "I recommend they leave behind the conditions of internal governance that they are trying to impose on us and that only Cubans can decide."
The US and Cuban leaders were set to meet this month in Havana to discuss immigration issues after years of confrontation which started after Cuban Revolution in 1959. The United States does not have formal diplomatic relations with the Latin American state and has placed an embargo, making it illegal for US companies to do business with Cuba.
In April 2009 US President Barack Obama signaled leniency towards Cuba, showing willingness to open dialogue with Cuba. Obama, however, said he would lift the sanctions only if Cuba changed its political system.