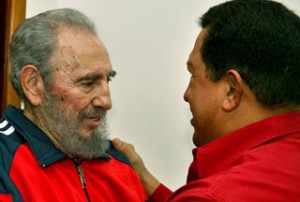 The Cuban leader has arrived in Venezuela on the eve of an important summit by the member states of The Bolivarian Alliance for the Peoples of Our America (ALBA).
Raul Castro, who arrived in the Latin American country, will join his socialist colleagues in the summit on Monday.
The summit comes while Venezuela is celebrating the 200th anniversary of its independence from Spain.
"I am very happy after arriving here to Venezuela, to Caracas its capital where I came to for the first time in July some 57 years ago," Reuters quoted Castro as saying upon arrival.
ALBA member states include Antigua and Barbuda, Bolivia, Cuba, Dominica, Ecuador, Nicaragua, Saint Vincent and the Grenadines and Venezuela.