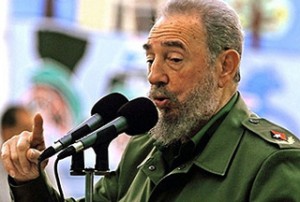 Fidel Castro has criticized the US empire for launching an offensive, this time with the help of a "friendly smile and African-American face."
In a letter to visiting Venezuelan President Hugo Chavez, the 83-year-old former leader warned Latin America that the empire is on the offensive again.
He blamed the US for the Honduran military coup that overthrew deposed president Manuel Zelaya and condemned Washington's latest military accord with Colombia, which allows US forces to use seven Colombian military bases for the next ten years.
Castro's letter was read by Chavez at an ALBA summit in Havana on Monday.
ALBA — a Bolivarian Alternative for Latin America — is an international cooperation organization based on the idea of social, political, and economic integration between the countries of Latin America and the Caribbean.
Castro wrote that those "are the real intentions of the empire, this time under the friendly smile and African-American face of [US President] Barack Obama," The Associated Press reported.