Syria
Cavalry march in occupied Golan with President Asad Photos on the occasion of Eid al-Adha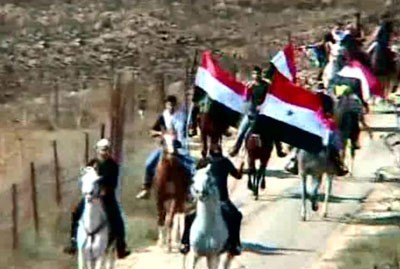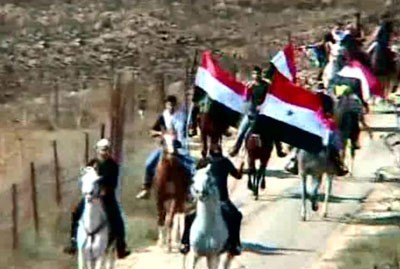 On the occasion of Eid al-Adha, cavalry of the occupied Syrian Golan marched through al-Yaafouri plain, located between Masaada village and Majdal Shams, going to the cease-fire line, opposite to Hadar village.
In a speech from inside the line, liberated captive Sidki al-Maqt said " We stand today on the nearest communication spot with our families to offer them best wishes for happy Eid."
Al-Maqt also appreciated the sacrifices of the Syrian Arab Army's personnel in confronting the armed terrorist groups.
For their part, Golan's citizens said that their biggest victory will be when Syria come out of the crisis victorious.
The cavalry raised Syrian flag and photos of President Bashar al-Assad.