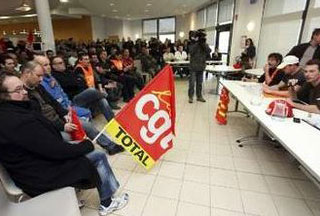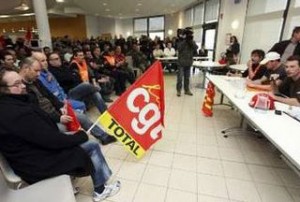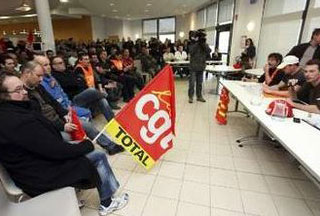 French unions are set to call off their refinery strike after the Total group agreed to the terms and conditions set forth by the joint group of workers' unions.
The CGT labor union's coordinator, Charles Foulard, said after the crisis talks at the company's Paris headquarters on Tuesday: "We had to get to the point at which we were threatening France with fuel shortages before the Total group — which makes billions in profits — shamefully, after nine hours of negotiations, finally made proposals and commitments."
He said that the crippling week-long strike and blockade of six of the country's 12 refineries, which had caused fuel shortages at 250 petrol stations around the country, will be called off.
Francois Viaud, the head of human resources at Total, said that after the signature session is organized on Wednesday work, will resume. The management has promised that no jobs will be lost at the only refinery that was to be shut down.
French President Nicolas Sarkozy earlier summoned Total chief executive Christophe de Margerie and told him not to shut any of its refineries, especially the one in Dunkirk in northwestern France, and to make no job cuts.