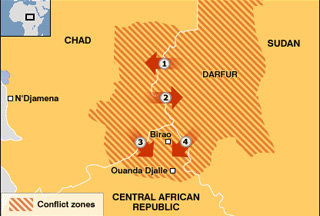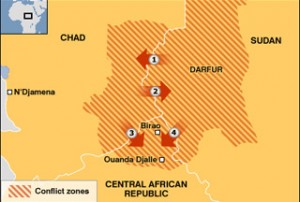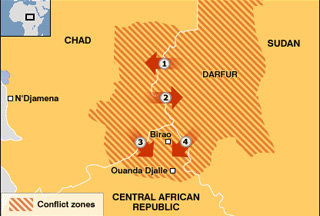 Chad and Sudan have reopened their border as a sign of improved relations seven years after it was closed down due to the Darfur conflict, Chadian officials say.
"The border was opened Saturday and traffic is moving freely between the two countries," AFP quoted a local official, Hassan Ibrahim, by phone from a Chadian border town called Adre.
"Sudanese taxis are going back and forth and so are the people," he added. Adre is located about 34 kilometers (21 miles) from el-Geneina in Darfur.
The reopening of the border was also confirmed by another official in the Chadian Foreign Ministry who asked for anonymity.
The border decision was part of the accord signed in January normalizing relations between Chad and Sudan, the official said.
Since 2003 there have been rebel attacks in Sudan's Darfur and also within Chad. Tensions had been high between the two countries with both sides accusing each other of supporting cross-border insurgents.
After Darfur rebels reached the outskirts of the capital Khartoum in May 2008, Sudan broke off diplomatic relations with Chad accusing Ndjamena of backing the attack.