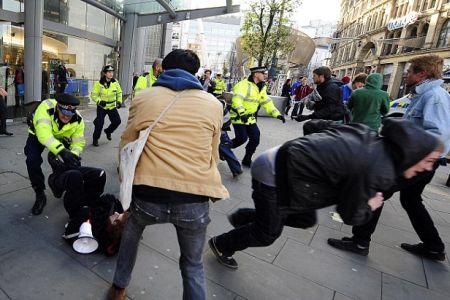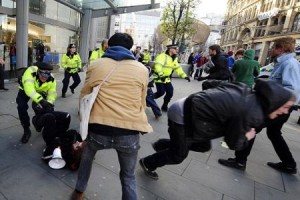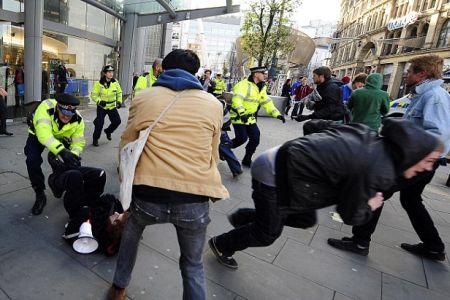 Thousands of protesters pour into the streets in London and Manchester, again, to shout their anger at the government's policies, with some clashing with police.
The National Union of Students (NUS) and Trade Unions Congress (TUC) joined forces in a protest against the increase in university tuition fees, spending and education cuts, and job losses, with a group chanting "Revolution, revolution", British media reported.
British students and trade unionists broke through police lines in central London and were chased by an enhanced number of police forces to the city center where officers later "kettled" a group of angry protesters and arrested six people.
In Manchester, general secretary of the UCU lecturers' union, Sally Hunt addressed the rally, saying that the government was actually at "war with young people" and "betraying" an entire generation.
She attacked the government for raising tuition fees in England to a new upper limit of £9,000 per year and for scrapping education maintenance allowances for college students.
In London, with banners such as "Still angry, still here," protesters sent the message that the campaign against higher fees and university spending cuts had not disappeared.
Saturday's rallies have been the latest in a series of demonstrations and occupations by students.
On the day MPs voted to raise tuition fees, there were angry scenes on the streets of London as thousands of students marched through the capital.
Violent clashes erupted between student protesters and police outside Parliament where police "kettled" them for hours and arrested dozens of people while several others were injured.
A large group of protesters in London left the main venue for the Egyptian embassy on Saturday where they expressed strong solidarity with the Egyptian people in their struggle for freedom and change.
One slogan being brandished in London drew an analogy between international events and the UK, declaring: "Ben Ali, Mubarak… Cameron, you are next."
The protesters were referring to Tunisia where people toppled president Ben Ali's government and to Egypt where people have been coming out in their thousands to demand that president Mubarak relax his grip on power and allow for a fundamental change in the Egyptian society.