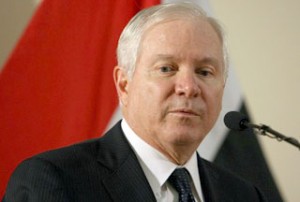 US Defense Secretary Robert Gates says China is reluctant to expand military ties with the US amid growing differences between the two countries.
"The PLA (People's Liberation Army) is significantly less interested in developing this relationship than the political leadership of the country," AFP quoted Gates as saying on Thursday ahead of a security conference in Singapore.
The Pentagon chief plans to visit Beijing as part of an Asian tour this week. Gates said, however, that there had been hints that China would cancel the visit.
The development comes as relations between China and the United States have become tense over a number of issues.
China has already reduced its military cooperation with the Pentagon over the $6.4-billion US arms sales to Taiwan. China considers the island as part of its territory.
China has in response imposed unspecified sanctions on US firms selling weapons to Taiwan.