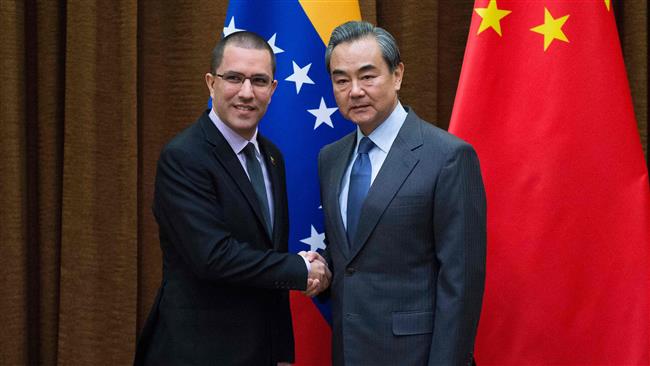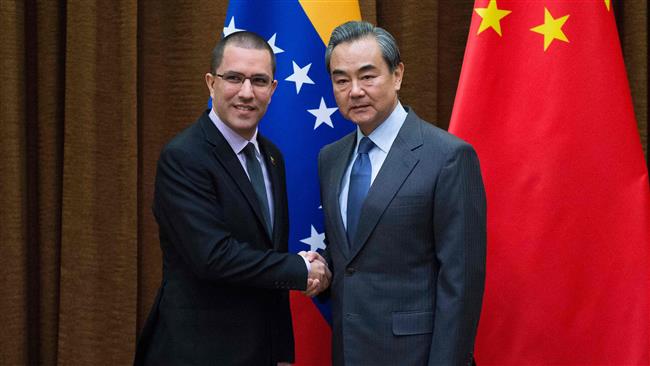 China has voiced support for Venezuela in its path to development, amid repeated attempts by the United States to criticize the Latin American country.
"Every country's right to go down a development path that accords with its national conditions should be respected," said Chinese Foreign Minister Wang Yi in a statement after meeting with his Venezuelan counterpart, Jorge Arreaza, in Beijing on Friday.
"China wishes that Venezuela maintains its trend of returning to stability, and encourages the resolution of the problems that exist via dialog and consultation within a legal framework," he added.
Arreaza is on a three-day visit to China.
China and oil-rich Venezuela have a close diplomatic and business relationship, especially in the field of energy. China has supported Venezuela against constant criticism from the United States and its allies about the domestic situation in the South American country, urging non-interference.
Venezuela has been gripped by political bickering in recent months. There has also been unrest by opposition supporters in the country. At least 125 people from both the government and the opposition camps have been killed and hundreds of others injured in that political violence.
The country's leftist government of President Nicolas Maduro accuses the US of sabotaging its economy and openly encouraging a "coup d'état" to topple Maduro.
A small group of rogue officers has twice conducted armed attacks against government targets recently.
'US is no human rights judge'
Separately, China on Friday urged the US not to set itself up as a "human rights judge" and denounced the US Treasury Department for punishing a Chinese public security official for alleged rights abuses.
Gao Yan was one of the targets of an executive order issued by US President Donald Trump on Wednesday blocking the property of foreigners allegedly involved in human rights abuses.
Gao had been in charge at Chaoyang Detention Centre in Beijing, where a Chinese rights activist, Cao Shunli, was held and questioned prior to her death in hospital under police custody in March 2014.
Chinese Foreign Ministry spokeswoman Hua Chunying told a regular briefing that China opposed the US using sanctions to target other countries' citizens based on its own domestic laws.
"We urge the United States to impartially and objectively look upon China's human rights development and to stop acting as a so-called human rights judge," she said, adding that China's police maintain public security in accordance with law.