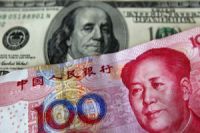 As Republicans and Democrats in the US Congress are still negotiating to find a solution to end the government shutdown and avert a default, China, the US biggest creditor, has called on world economies to rely less on the United States.
China state news agency Xinhua said: "As US politicians of both political parties are still shuffling back and forth between the White House and the Capitol Hill without striking a viable deal to bring normality to the body politic they brag about, it is perhaps a good time for the befuddled world to start considering building a de-Americanized world."
The news agency said in an op-ed: "Days when the destinies of others are in the hands of a hypocritical state have to be terminated, and a new world order should be put in place, according to which all nations, big or small, poor or rich, can have their key interests respected and protected on an equal footing."
If the US Congress does not come to an agreement by Thursday' deadline to extend Treasury's borrowing authority the nation will default on debt for the first time in history. The current US debt ceiling is $16.7 trillion.
In reaction to the Xinhua's editorial, the NBC News wrote that "despite a desire to diversify its holdings, the Chinese government continues to buy US Treasury bonds out of political and economic necessity."
China is the biggest investor in American public debt, with at least $1.3 trillion in holdings.