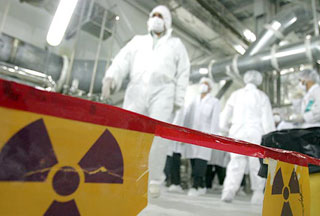 Beijing on Tuesday called on all sides involved in talks over Iran's nuclear program to take a more "flexible and pragmatic" approach towards the negotiations.
"Dialogue and negotiation are the right ways of properly resolving the Iran nuclear issue, and there is still room for diplomatic efforts," Foreign Ministry spokeswoman Jiang Yu said. "We hope the relevant parties take more flexible and pragmatic measures and step up diplomatic efforts in a bid to resume talks as soon as possible."
US Secretary of State Hillary Clinton on Monday indicated that Washington had discussed sanctions against Iran with other major powers.
"We have already begun discussions with our partners and with like-minded nations about pressure and sanctions," she said.
She added that the White House would continue its dual track approach of seeking to halt Iran's uranium enrichment program through negotiations while also considering sanctions.
Iranian Foreign Ministry spokesman Ramin Mehman-Parast on Tuesday advised the West to adopt a realistic approach toward Iran's nuclear energy program.
He said as Iran has continuously abided by the International Atomic Energy Agency's rules and regulations, "sanctions, threats and other such wrong actions" would not yield any results.
The West is pressuring Tehran to accept a UN-backed draft deal, which would require Iran to send most of its domestically-produced low enriched uranium (LEU) abroad for further refinement for the Tehran research reactor that produces medical isotopes.
The reactor in the capital is soon expected to run out of fuel. Iran has demanded the UN nuclear agency to arrange that fuel be provided to the country.
Iran, however, has not accepted the proposal which was first floated by the administration of President Barack Obama.
The Islamic Republic calls for "concrete guarantees" for the return of its fuel, as some Western countries have previously failed to adhere to their nuclear commitments to Tehran.