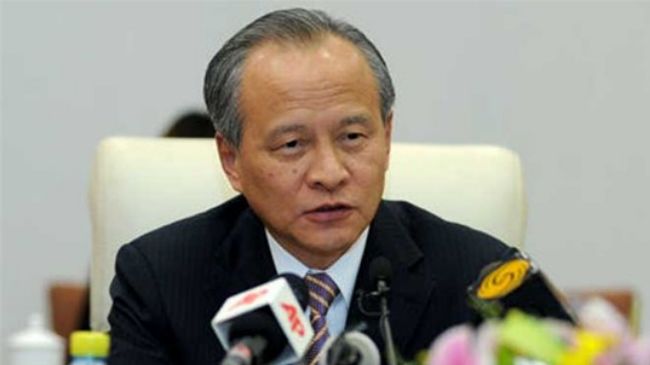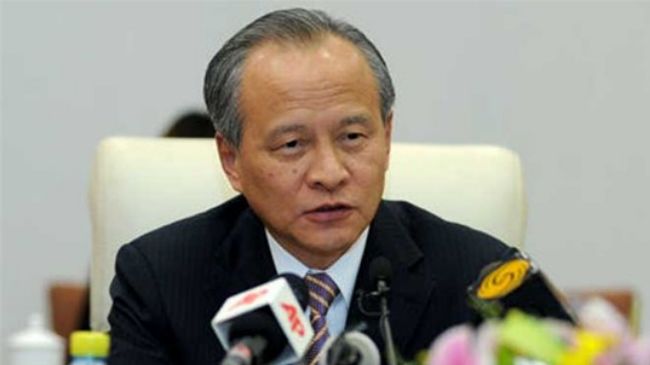 China has dismissed US-led sanctions on Iran to force the Islamic Republic into freezing its nuclear program, stressing that it intends to pursue its "legitimate economic interests" with Tehran.
"We call for efforts to maintain the effectiveness of the international non-proliferation regime and to maintain peace and stability in the region," China's Vice Foreign Minister Cui Tiankai told reporters at a briefing in Washington late on Tuesday.
"As for relevant Security Council resolutions on sanctions, we voted for these resolutions and we have been enforcing them most strictly. But we do have reservations on unilateral sanctions and this is nothing new," he added.
He added that "with regard to Iran… the legitimate economic interests and energy demands of China should not be affected."
The unilateral sanctions on Iran have led to a clash of interests between Washington and its key commercial partners, including China.
China has voiced strong opposition to the US-led push for unilateral sanctions against Iran over its nuclear program, reiterating that Tehran's nuclear issue must be resolved diplomatically.
Chinese Foreign Ministry spokesman Liu Weimin said on January 9 that Iran's nuclear issue cannot be addressed fundamentally through sanctions and pressure.
"Dialogue and negotiation is the only right way out," Liu said at a regular news briefing in Beijing.
"China opposes placing domestic law above international law and does not favor unilateral sanctions against other countries," he added.
Liu said that China has maintained "normal, open and transparent" ties with Iran in the fields of economics, trade and energy, "just like many other countries."
He said China's economic exchanges with Iran neither go against United Nations Security Council resolutions nor affect China's stance on non-proliferation, and thus "should not be affected."
Meanwhile, Chinese Foreign Ministry spokesman Hong Lei said on January 4 that "China has consistently believed that sanctions are not the correct way to ease tensions or resolve the issue of Iran's nuclear program."
"The correct path is dialogue and negotiations. China opposes putting domestic law above international law to impose unilateral sanctions on another country," he said.
Hong also defended China's oil and trade ties with Iran and criticized the Western sanctions that could frustrate such relations.
"China and Iran have normal and transparent trade and energy exchanges that do not contravene UN Security Council resolutions. The dealings in question should not be affected (by sanctions)," the Chinese foreign ministry spokesman pointed out.
The United States, Zionist Occupation Israel, and some of their allies accuse Tehran of pursuing military objectives in its nuclear program. Washington and Tel Aviv have repeatedly threatened Tehran with the "option" of a military strike against its atomic facilities.
Iran argues that as a signatory to the NPT and a member of the IAEA, it has every right to develop and acquire nuclear technology for peaceful purposes.
The IAEA has conducted numerous inspections of Iran's nuclear facilities but has never found any evidence indicating that Tehran's civilian nuclear program has been diverted to nuclear weapons production.