China
Asia-Pacific
North America
China says US not qualified to tell it how to respect state sovereignty
China's foreign ministry says the United States is not qualified to tell the Asian country how to respect state sovereignty and territorial integrity after Washington said Beijing had an obligation to urge Russia to back down and de-escalate the Ukraine crisis.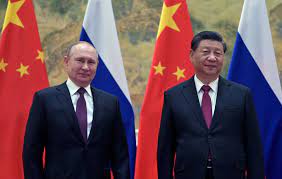 US State Department spokesman Ned Price on Wednesday said China should use its "considerable influence" with Russia to urge President Vladimir Putin to back down and de-escalate the current crisis in Ukraine.
He also accused both Moscow and Beijing of working together to create what he called a new "profoundly illiberal" world order.
Price's comments came just a day before Putin, in a televised address to his nation, ordered "a special military operation" in Ukraine's breakaway Donbass region to "defend people who for eight years are suffering persecution and genocide by the Kyiv regime."
In a statement later on Thursday, Chinese Foreign Ministry spokeswoman Hua Chunying lambasted Price's remarks, saying Washington is not in a position to lecture China on how to respect state sovereignty and territorial integrity.
"I'm afraid that the US side is not qualified to tell China how to do things like how to respect a state's national sovereignty and territorial integrity. The Chinese people have very real and profound understanding and feelings about the issue of national sovereignty and territorial integrity," she said.
Hua said China itself has been a victim of colonial invasions of "the Eight-Power Allied Forces and foreign powers", and that it has an extremely bitter memory of how the country was humiliated with its sovereignty forfeited and that some 20 years ago its embassy in former Yugoslavia was bombarded by NATO warplanes, leading to the death of three Chinese journalists and many others injured.
"To this day the NATO still owes a blood debt to the Chinese people. And today, China still faces the real threats from the US in league with several of its so-called allies which willfully interfere in China's internal affairs and undermine China's sovereignty and security on issues relating to Xinjiang, Hong Kong and Taiwan," Hua said.
"China has always firmly upheld the purposes and principles of the UN Charter and basic norms governing international relations, resolutely safeguard the national sovereignty, security and territorial integrity, and steadfastly defend international fairness and justice," she added.
In 2014, Ukraine's two regions of Donetsk and Lugansk – collectively known as the Donbass – were turned into self-proclaimed republics by ethnic Russians, leading to a bloody conflict between government forces and armed separatists.
The conflict worsened following a wave of protests in Ukraine that led to the overthrow of a pro-Russia government, which was later replaced with a Western-backed administration. The majority in those areas refused to endorse the new administration. More than 14,000 people have been killed so far.
Ukraine, as well as the European Union (EU) and the United States, claim that Russia has a hand in the conflict in the Donbass. Moscow denies the allegation.
"As a permanent member of the UN Security Council and an independent power, Russia independently formulates and implements its own diplomacy and strategy based on its own judgments and national interests. I must stress and point out that China-Russia relations are built on the basis of 'non-alignment, non-confrontation and non-targeting at any third party.' This is fundamentally different in nature from the US side in forming 'small cliques' and bloc politics by drawing ideological lines and creating confrontation and division. China is not interested in or has no intention to follow the 'friend or enemy' Cold War mentality and the practice of cobbling so-called allies and 'small circles,'" Hua added.
The Chinese foreign ministry spokeswoman also stressed that China and Russia are working to boost strategic communication and coordination, firmly uphold the international system in which the UN plays a central coordinating role in international affairs and international orders based on international laws, including the purposes and principles of the UN Charter.
"This actually manifests the sense of responsibility and represents positive factors in safeguarding the international strategic security," Hua said.
Moscow views NATO's eastward expansion as a direct threat to its security. It has put forward a set of security proposals to de-escalate the tensions, including a guarantee that Ukraine would not join NATO, a demand that the alliance said was a non-starter.