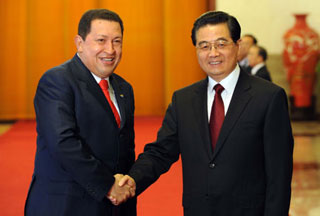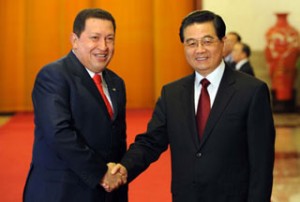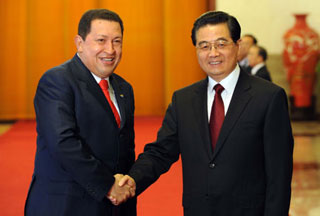 Beijing has agreed to give $20 billion to Caracas for long-term industrial and infrastructure projects, Venezuelan President Hugo Chavez says.
"China is going to give financing to Venezuela … over the long-term and in large volume of some $20 billion," he said at a Saturday signing ceremony with Chinese officials.
The two sides also inked six more accords covering electricity and oil projects, including ratification of a joint venture to develop a block in the Orinoco crude belt.
The Venezuelan president said the new agreement is in addition to a $12 billion bilateral investment fund, without providing details.
Currently, Venezuela sends China 460,000 barrels a day of crude oil to repay an $8 billion loan that finances infrastructure projects in the country.
As the largest oil producer in Latin America, Venezuela is diversifying its export markets and seeking loans from Russia and Japan in a bid to boost oil output.