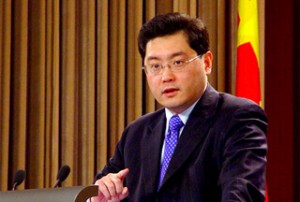 China has renewed its call for a diplomatic solution to Iran's nuclear issue, saying that all parties should seek a "comprehensive" solution.
"Now all parties concerned should strive for more time and space for a long-term, comprehensive and proper solution to this issue," Xinhua quoted Chinese Foreign Ministry spokesman Qin Gang as saying on Tuesday.
Qin reiterated that China's position on the issue was clear, noting that Beijing was committed to international nuclear non-proliferation system and the peace and security in the Middle East.
"Therefore we maintain seeking proper resolution of the Iran nuclear issue through peaceful dialogue and diplomatic means," he added.
The West accuses Iran of pursuing a military nuclear program through its enrichment activities. The International Atomic Energy Agency, however, has conducted numerous unannounced inspections of the country's nuclear sites and has found no evidence supporting the claim, , Which Iran has described as 'unfounded' and politically-motivated.'
China and Russia, two veto-wielding members of the UN Security Council, have repeatedly voiced their opposition to the West's push for new sanctions against Iran over its nuclear program, saying that such sanctions will not solve the issue.