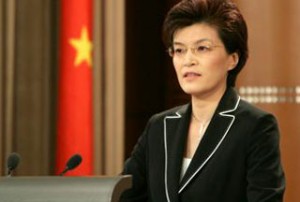 China calls on all sides of the Iranian nuclear dispute to step up diplomatic efforts amid Western threats of more sanctions against Tehran.
"All parties should enhance diplomatic efforts and adhere to the right track of negotiations," foreign ministry spokeswoman Jiang Yu told reporters.
The US says it will seek new sanctions against Tehran if it fails to accept a draft deal which was first floated by the Obama administration and later backed by the UN nuclear watchdog.
Contrary to China's Thursday assertions that it still believes in diplomacy, Washington says the P5+1 (the permanent members of the Security Council Britain, China, France, Russia and the United States plus Germany) have agreed on a deadline.
Iranian President Mahmoud Ahmadinejad, however, has rejected the deadline and condemned Western pressure over Iran's civil nuclear program.
"They say we have given Iran until the end of the Christian year. Who are they anyway? It is we who have given them an opportunity," Ahmadinejad said in a speech in the southern Iranian city of Shiraz.
Iran insists its nuclear program is solely for civilian purposes and rejects Western claims that it intends to pursue a military agenda.
The two sides of the dispute came close to ending their standoff by sealing a deal back in August, but the power's refusal to appease Iran's concerns over details of the agreement led to a temporary break down in talks.
The draft deal required Iran to send most of its domestically-enriched low-grade uranium out of the country for further refinement of up to 20 percent.
Iran needs the higher-enriched fuel for use at the Tehran research reactor, which produces radioisotopes for medicinal and medical purposes.
Despite having accepted the gist of the draft deal, Iran refused to officially accept the proposal, as its concerns about the other side's commitment to its obligations were not addressed.
Tehran wanted "concrete guarantees" that it would receive the promised fuel in exchange for the low-grade uranium it sends out of the country; based on the argument that Western powers had not carried out past commitments.