China
China virus toll rises, spurring several countries into action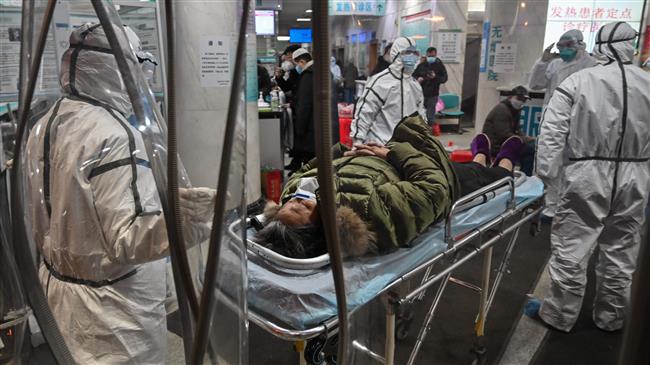 China virus toll rises, spurring several countries into action
Sunday, 26 January 2020 6:28 AM [ Last Update: Sunday, 26 January 2020 11:18 AM ]Volume 48%Medical staff members are seen wearing protective clothing at the Wuhan Red Cross Hospital in Wuhan, China, on January 25, 2020. (Photo by AFP)
China is struggling to tackle the outbreak of a mysterious viral disease, which has infected nearly 2,000 people and claimed the lives of at least 56 others nationwide, spurring a number of countries at risk into taking precautionary measures.
President Xi Jinping has admitted that his country is facing a "grave situation."
"It is our responsibility to prevent and control [the epidemic]," President Xi said at a meeting he chaired to discuss the coronovirus crisis on Saturday.
He ordered all levels of government to "put people's life and health as top priority" and ordered groups to be sent to Hubei Province, the epicenter of the outbreak, to work directly on the ground.
The never-before-seen virus began to infect people in a seafood and poultry market in the central city of Wuhan, with a population of 11 million people, late last year.
As of Saturday morning, authorities confirmed that the death toll had risen to 56, while 1,975 cases of infection had been listed across the country.
Chinese authorities have banned trade in wildlife in markets and restaurants across the nation. The embargo also includes e-commerce.
According to the China National Radio, schools and universities will for now remain closed.
Officials have so far placed several cities, including Wuhan, under a lockdown in an attempt to prevent the spread of the virus. It has been transmitting nevertheless. Urban transport and outgoing flights have been suspended.
suspended.
On Sunday, the government announced a partial lockdown on the southern city of Shantou, where two cases have been detected.